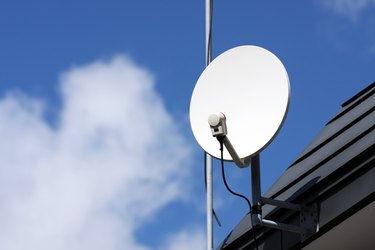 Now that consumers are in the age of streaming services, most households are seeing little need for their old satellite dishes. According to SpaceNews, large television conglomerates such as DirecTV are slowly making the need for satellite dishes obsolete, so households should commit to satellite dish recycling. Satellite TV dish recycling may not seem essential, but recycling the components of satellite dishes is necessary when it comes to the fight to save the planet.
Satellite Dish Materials
Before you get started on your satellite dish removal, it's essential to know why you need to recycle an old satellite dish. According to Earth911, satellite TV dishes are made out of plastic, metal and circuit board/hardware. Although people don't think of recycling this type of technology, satellite TV dishes fall under the electronic waste category. Plastic and metal are both recyclable, but according to Earth911, U.S. federal guidelines don't regulate circuit boards as a hazardous waste.
Although some states mandate satellite dish recycling, many aren't regulating satellite dish removal. A few service providers such as DISH Network provide satellite dish recycling, but if your service provider doesn't, you can recycle your old satellite dish at a local e-waste site. There's also a DirecTV recycling location.
If you're not sure if your service provider offers satellite dish removal, call before you just dispose of your satellite dish. Some providers work through third-party recycling programs even if they don't directly pick up your old satellite dishes.
Satellite Dish Recycling
According to MyDISH, if you need to disconnect your satellite dish or are returning equipment, you can return it to DISH, but they only pick up specific equipment. If you have a Hopper 3, Hopper with Sling, Hopper, Hopper Duo, Wally, 4K Joey, Joey 1.0/2.0/3.0, Wireless Joey, Super Joey, Smart Card or LNBF, these different DISH pieces of equipment are eligible for pickup. In the case that you don't own these models and own something else that needs to be recycled, you can also use Best Buy or UPS for satellite dish removal.
According to MyDISH, they work with Best Buy when it comes to satellite dish recycling. Simply bring your satellite dish to the Best Buy customer service desk and they'll collect your satellite dish. According to MyDISH, Best Buy has received and disposed of over one billion pounds of electronics and appliances. Another option is using a UPS Shipping Center to ship a satellite dish specifically.
According to MyDISH, you can bring your equipment to your nearest UPS Shipping Center and send it to DISH's certified recycler, AER Worldwide. The only con about this is that you'll have to ship the satellite through UPS at your own expense.
Other Recycling Options
If you don't want to incur a shipping fee, there are other ways that you can dispose of your satellite dish. Earth911 won't recycle your satellite dish, but you can look through their searchable database to help you find local recycling vendors in your area. Visit Earth911 and search the database for receivers to find a local e-waste recycling facility that's close to you.
Another option is to contact local scrap vendors in your area. They can easily remove and reuse the plastic and metal components of the satellite dish.