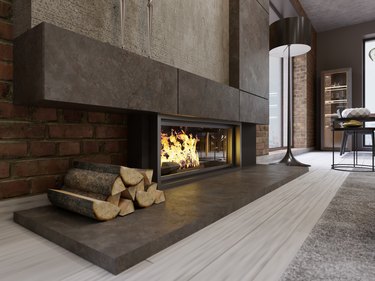 The crackle and pop of a fire in the hearth makes for a warm and cozy home. Each time a fire is lit, it creates a buildup of dangerous creosote in the chimney and surrounding fireplace housing. The buildup of creosote can become a serious fire hazard and is often the cause of fireplace eruptions. It can leave a corrosive and odorous layer of grime that is difficult to remove. This layer will eventually build and coat the inside of the chimney.
What Is Creosote?
Creosote is a natural byproduct of a good fire. It is the reason that meat gets that much-desired flavor when it is smoked. It's basically invisible yet forms a thick layer of gunk that becomes a barrier for fresh air. Creosote is formed when volatile gasses within the wood are emitted through the burning process. They combine and condense as they travel from that roaring fire through the chimney and around the interior of the cavernous fireplace.
Creosote is made up of mostly tar. When smoke drifts up the chimney, it mixes with cold air and condensation in the air at the top of the structure. A lined chimney still gets choked with creosote and needs to be cleaned regularly.
Dangers of Creosote Buildup
Left unchecked in a home's fireplace, creosote can quickly choke a chimney and create a problem. It is extremely flammable when it is allowed to build up in layers. It will expand when there is a lack of open ventilation, according to Chimney & Wildlife Specialists. This makes the narrow passageway of a chimney flue an ideal place for creosote to lay unseen and become a serious problem.
Homemade Creosote Remover
A first defense of controlling creosote is to always use dry wood, not green or wet, to keep the buildup of creosote to a minimum. For creosote that is visible around the brick edges or glass of a fireplace or wood stove, a paste of one part baking soda to one part warm water will gently remove the grime. For thick layers, use a metal scraper.
A good creosote remover to use at least a few times a year is a mix of 1 tablespoon of mild dish soap and 4 cups of hot water. Wash down the stone, glass or metal and buff to a high shine. Repeat the process with this gentle creosote cleaner until the facade is free from creosote. For the chimney, special tools and sharp blades can take down a thick layer of creosote.
Checking for Creosote Buildup
There isn't a true set time to clean out the creosote from a fireplace. Some recommend that you check the chimney for creosote by shining a flashlight and scratching the chimney with a fireplace poker. Scratch the surface of the inside of the chimney above the damper and look for a 1/8 inch or deeper scratch, which means the fireplace should be cleaned before using to be safe.
The fireplace is typically cleaned out once a year. If it isn't used often, cleaning the chimney and fireplace can be held off for the following year. Local fireplace cleaners who are licensed can make the process of removing the sticky buildup much easier.