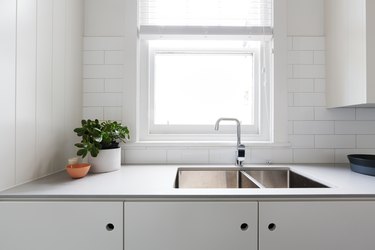 Dull, dingy and dated laminate kitchen and bathroom countertops can be made to look good as new in a day or weekend. Careful preparation, along with the right laminate countertop sealant and application, will ensure that the finished workspace is glossy and flawless.
Before you begin to overhaul laminate, consider how much time and effort you're able to put into the project. Some laminate sealants are easier to apply and take less commitment than others.
Tip
More than anything, prepping the countertop so the sealant easily adheres is essential for a flawless finish.
Laminate Countertop Sealant
When looking to update or overhaul a countertop, use a resin, acrylic or polyurethane coating that's specifically labeled for use as a laminate countertop sealant. Polyurethane coating or a resin laminate sealer will provide shine and a protective coating.
A small can of acrylic is an affordable sealer for countertops that are in small spaces, such as a powder room or workspace, according to the experts at Bob Vila. For larger projects, an epoxy poured over the surface can create a thick, glossy and durable layer over the laminate.
Prepping the Laminate Surface
No matter what type of sealant you choose to apply to the old laminate, the surface needs to be roughed up to take on the slick coats of shiny sealant. Clean off the counters with a degreaser if they're truly grimy and tape off areas that you don't want to be affected by the sanding and cleaning you'll be doing.
Use an 80-grit piece of sandpaper and remove the sheen from the laminate. Don't be too rough and create uneven areas on the surface. Small circular motions will suffice in removing the last layers of shine from the laminate so the new sealant will adhere well to the countertop surface.
Wash down the laminate with a degreaser or cleaner, such as 1 tablespoon of TSP mixed with 1 gallon of warm water. Rinse well and allow it to dry thoroughly before applying the laminate sealant.
Applying a Sealant to Laminate
An epoxy laminate countertop sealant comes with liquid resin and a hardener. These need to be mixed immediately before applying to the countertop. Work in small batches because this will harden within 20 to 30 minutes of being mixed.
Pour the epoxy onto the countertop and let it flow to the edges, guiding it along with a paint stick or other flat tool, such as a wide putty knife. Gently push the epoxy to the edges until it's completely covered and even across the surface. Countertop Specialty recommends removing stubborn bubbles from the wet epoxy with a hair dryer, which will coax the bubbles to the surface.
When to Call a Professional
If the laminate countertop is truly dull, stained or otherwise in bad shape, you may want to consider hiring a professional. They can prep the surface and repair any chips, remove stains and bring it back to beautiful. This will give your laminate countertops the protection they need to stand up to years of hard use in a busy kitchen.