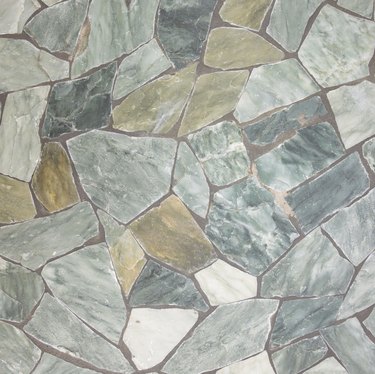 While the colors of natural stone are often highly visible immediately after an installation, over time they can fade because of residue buildup on the face of the stone, as well as scuffing from foot traffic over the years. There are a number of products you can use on the face of natural stone to enhance the colors and bring out the natural luster to keep your installation looking new year-round.
Stone Enhancers
Stone enhancers are the primary product available on the market to bring out the color of your natural stone. They are generally sold as standalone products that are specifically used to enhance the color of the stone, rather than to seal it. They can be used on all types of natural stones, although they are most effective on unpolished stone such as slate, tumbled marble and travertine surfaces.
Topical Sealers
Topical sealers for natural stone take their basic principles from the polyurethane sealers most commonly used for sealing hardwood floors, decks and furniture. Most topical sealers for natural stone come with some type of stone enhancer built into the sealer so that the initial coat of sealer brings out the color of the stone while at the same time providing a protective barrier on top of the stone that has a polished sheen to it. The more coats you apply, the more sheen you see.
Natural Oils
Natural oils can bring out the color of natural stone, but they also have the side effect of darkening the stone along with bringing out the natural luster. Linseed oil is one of the most common used for woods and is also useful for natural stones, but any type of natural oil can be used, ranging from olive oil to sunflower seed oil or any type of natural oil extracted from plant products.
Penetrating Sealers
Similar to topical sealers, some types of penetrating sealers come with a stone enhancer mixed into the sealer. However, while topical sealers create a protective barrier on top of the stone, penetrating sealers work by actually going into the stone and settling in just below the surface to provide protection against moisture and stains over the years. Not all penetrating sealers have a stone enhancer built into them, so check before purchasing.