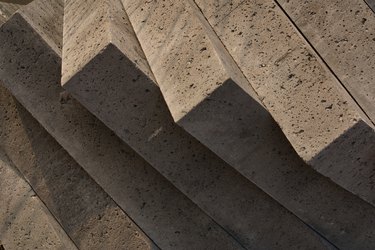 Concrete is a sturdy building material used in home foundations and other applications. In time, however, concrete slabs can crack or sink due to pressure or from movement during settling. Lifting a sunken slab may be necessary to level the surface. Hiring a professional service to lift, or jack up, the slab can be costly. You can avoid this expense if you do it yourself with the help of a jacking pump, which can raise the concrete slab to the needed level.
Function
A jacking pump uses compressed air, which forces slab jacking material through an attached hose. Once holes are drilled through the slab and into the soil beneath it, the hose feeds the material into the holes. The material pushes the slab up and into the necessary position. The user can lower or raise the concrete by transferring the hose to another hole and pumping in material under a different section of the slab.
Slab Jacking Material
Slab jacking material must be mixed before you place it into the jacking pump. The jacking mix typically contains one part fly ash -- a byproduct derived from burning pulverized coal that improves the ease of pumping concrete -- two parts sand and one part Portland cement. An expander additive is often included with the rest of the material, which helps you prevent the mix from shrinking as it hardens.
Hole Capping
The concrete jacking process concludes with capping the holes drilled through the slab once the slab reaches the desired height and is verified as level. Cap the holes with grout and allow them to dry. You can make the effect less obvious by taking a small amount of the dust produced while drilling the holes and adding it to the grout mix. The dust helps the grout resemble the color of the concrete and enables it to better blend in with the slab.
Preventing Slab Movement
Compacting dirt on top of a slab can cause a slab to sink due to pockets of air or water that enter the soil and add pressure to the concrete. You can avoid the need to jack up your concrete slab by using sand, or a mixture of sand and gravel, as opposed to dirt. You can also pin the slab to your foundation by inserting pins, or steel bars, to prevent the slab from breaking or sinking.