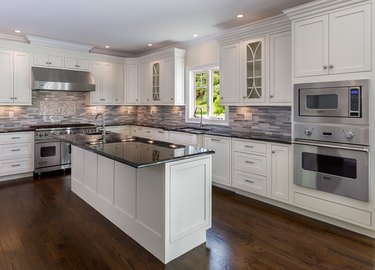 Household chores can be very daunting, especially when it comes to selecting what type of product is best for the task at hand. Certain areas of your home, such as hardwood floors, can be difficult to clean properly if you want them to stay in good condition.
The best way to get an effective clean and not damage the wood is to make homemade products that not only clean the floors but also add extra shine. The great part about creating home remedies to make hardwood floors shine is that the items used to create the DIY product are everyday household items, so no purchase necessary!
DIY Wood Floor Polish and Cleaner
To make a homemade wood floor polish and cleaner, you'll first need an empty bottle to store your finished product. Make sure that the bottle has been thoroughly cleaned. If it's an old bottle that previously held chemicals, the chemical residue in the bottle could have damaging effects on the wood flooring.
The next step is to measure out 2 tablespoons of olive oil and pour that into the empty bottle. You'll then need to add 1 tablespoon of white vinegar followed by 15 drops of an essential oil of your choice. The essential oil isn't necessary but simply adds a hint of fragrance to the cleaner. Great choices are lemon or orange to give it the typical citrus odor; however, you can also use something more calming like lavender if this is more to your liking.
Finally, you need to dilute the oil and vinegar with 2 cups of warm water. Naturally, the liquids won't mix well and will always separate when not in use. This doesn't mean that the mixture can't be used. Simply give the bottle a good shake and make your way through the floor in small sections when cleaning.
Cleaning Materials
Having the homemade wood floor polish and cleaner ready to go is great, but you need to make sure that you have the right tool to wipe the floors with. Wood flooring is a bit tricky because it can easily be scratched if the wrong kind of cloth is used. The best type of rag to use is an ultra-soft microfiber cloth and won't leave any marks on your floors.
A typical mop may also be used if you plan on cleaning the entire floor. If you're having doubts about your mop head, attach the microfiber cloth over the mop for peace of mind. If you're focusing on a small section, you can simply wipe it down by hand. Just remember to spray the floors in sections and not all over at once. Having any type of liquid sit on your floorboards could damage them, making the cleaning process even more tedious.
Reminders and Tips
Remember to vacuum or vigorously sweep your floors before using your homemade floor polish. If you begin rubbing down your floors with dirt remnants still lingering on the surface, you're likely to do more harm than good when mopping your floors.
If you want the polish to last, pass over the newly cleaned floor with a dry microfiber cloth to bring that extra shine. This should give the cleaner/polish a long-lasting effect and would only require you to heavily polish your floors once per year.
The polished shine can last a long time as long as you continue to care for your floors. Make sure to spot clean any spills and regularly vacuum and sweep any dirt or debris that could cause scratching.
---
Taking on the role of the household's 'handyman' was a natural path for me. Watching my dad as a child be able to fix anything made me want to be just like him. Now with a toolbox of my own I tackle any task that my home throws my way. If the task can be accomplished with my own two hands, I have never been the type to hire someone else to do it. There is nothing more satisfying than staring at your completed project while you brush some dirt from your hands.