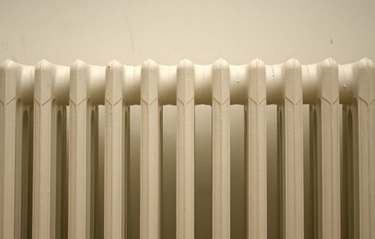 An oil heater uses a heating element at the base of the unit to warm oil, which is then circulated throughout the cavities of the heater. The oil is able to hold the heat due to its high heat capacity and boiling point, and that warmth is slowly transferred to the room. Consumers who no longer wish to use an oil heater cannot just place the item into the trash as it is considered a hazardous waste item. However, several recycling options are available to those who wish to dispose of the product.
Curb
Step 1
Unplug the oil heater from the electrical socket. Carry the heater out the front door and place it by the side of the road, ensuring the item is still on your property.
Step 2
Write the word "Free" with a thick black marker on a large piece of white paper. Tape the paper onto the oil heater.
Step 3
Wait several days to see if someone will take the heater. Bring the item back into your house or garage if no one wants the item.
Recycling Program
Step 1
Call your local government's waste management department. Find the number by typing "your county's solid waste management" into a search engine. Provide your name, address and telephone number to the representative.
Step 2
Ask the representative if your town or city will be hosting any solid waste recycling days. Make note of those days.
Step 3
Inquire about other methods to recycle your oil heater.
Classifieds
Step 1
Log on to your local newspaper's web site. Click on the link marked "Classifieds." Find the section that says "Place an ad." Read about any costs associated with placing an ad in the newspaper.
Step 2
Select the category, like "Merchandise," in which your ad will be placed. Tick the box that asks if you are a private seller or business. Fill in your full name, address, phone number and email address.
Step 3
Write the ad title and description. Choose a price or set the item as free. Move to the next step. Agree to any terms of service and make all necessary payments. Submit your ad and wait for the phone calls. Besides traditional classified advertising, you can also offer the oil heater on Craigslist or eBay.
Donation Center
Step 1
Unplug the heating unit from the wall. Place the item into your vehicle.
Step 2
Drive to a local donation center such as Goodwill or the Salvation Army. Pull around back to the donation drop-off point.
Step 3
Exit your vehicle and help the worker unload the oil heater. Ask about a donation receipt or coupon.