Tip
If air flow is weak and all recirculation vents are open, the air filter may be clogged or need replacement in the central unit. Keep a window AC air vent closed during most usage to keep hot air from entering the building. Window AC vent control may be labeled as "exhaust vent."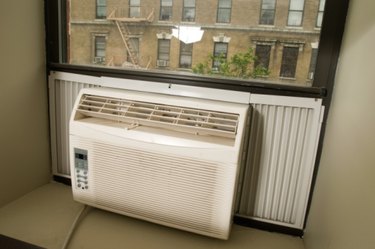 In addition to the vents found in central air-conditioning units and those found on window AC units, both types of systems also have vents that can be opened to either increase air circulation or draw in fresh air. These vents should only be opened when more air circulation is needed, or in the case of window AC units, when fresh air is needed. Opening the vents from time to time can reduce stale air in the building.
Window AC units
Step 1
Turn on the air conditioner. Verify that the settings are set to "Cool" and "High." Allow the unit to run until the room is cool.
Step 2
Locate the "Open/Close Vent" control. Depending on the make and model of the AC the control may be a button, sliding lever or pull-out lever.
Step 3
Press the control button, slide the lever, or pull the lever to open the vent. You may see a partial opening to the outside visible through the inside vents indicating the vent is now open.
Central AC units
Step 1
Locate the various cool air vents throughout the building. Adjust the sliding knob, wheel, or lever until the vent slats open increasing the air flow. If the air flow is weak proceed to Step 2.
Step 2
Locate the intake recirculation vents throughout the building. Often these vents are located on the floor or near the floor. They may be larger than the cool air vents. The recirculation vents do not push out cool air and can be identified by the lack of air blowing out of them.
Step 3
Adjust the vent control lever or switch to open the vent fully. This will increase the amount of air being recirculated in the building.
---
Maxwell Payne has been a freelance writer since 2007. His work has appeared in various print and online publications. He holds a Bachelor of Science in integrated science, business and technology.