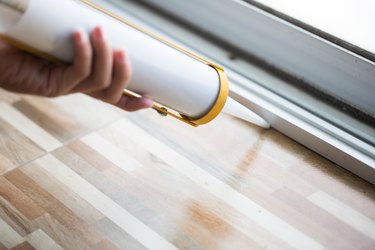 Caulking something to make it airtight and watertight is typically an easy process once you know whether you need to use polyurethane or silicone-based caulk to complete the job. Although silicone-based caulk is an everyday household product, it can go bad. You don't need to go through an elaborate process or whip out something you would find in a lab to determine if your silicone caulk has gone bad.
Silicone caulk is different from polyurethane caulk for a variety of reasons. First, silicone caulk is inorganic, whereas polyurethane caulk is organic. Since silicone caulk is inorganic, it won't break down under exposure to UV rays in sunlight or extremes in temperature. If you need to caulk an area in the colder months, silicone caulk works well because the cold temperatures will not affect your application.
If you try to use polyurethane caulk in cold weather, not only is it harder to apply but in super-low temperatures, you won't be able to create a bond. Another difference between the two sealants is that the sealing will last for over 20 years if done correctly when using silicone caulk. On the other hand, polyurethane caulk sealings will last about five to 10 years.
A major advantage of silicone caulk is its elasticity, and it adheres to just about any surface except for wood. You can use silicone in just about any area — even high-moisture areas like bathrooms — because it's water-resistant. Although silicone caulk is highly lauded for its capabilities, besides the fact that you can't use it on wood, a major disadvantage is that you can't paint silicone caulk. If you need to use caulk on an area that needs to be painted, you should use polyurethane caulk instead.
Does Silicone Caulk Go Bad?
Silicone caulk has a one-year shelf life guarantee, so it's super important to test your caulk before you start a new project. To test your caulk, all you have to do is squeeze out a small bit and wait for about 15 to 20 minutes. After the 15 to 20 minutes are up, check to see if your caulk has formed a skin. If your caulk has not developed a skin, then it has most likely expired, which means that your caulk will not harden (cure) once you try to use it.
You can also tell if your silicone caulk is expired by feeling the texture in the tube. If the caulk is hardened in the tube, then you won't be able to use it.
You can use silicone caulk to seal plumbing fixtures, doors and windows. Silicone caulk is also used to minimize drafts and to seal openings where rodents and insects try to enter. Ensure that your area is adequately ventilated before using silicone caulk and that there isn't moisture in the area for a couple of days after application.
Not only does silicone caulk take a long time to dry but it can also give off an unpleasant smell or harmful fumes. If the area is ventilated correctly, you should be fine, though. For larger caulking jobs, hire a professional to get the job done.