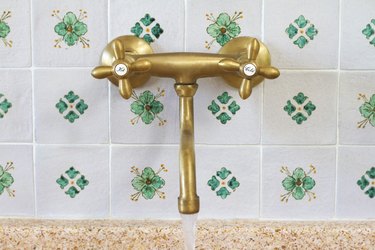 Oil-rubbed bronze faucets lend a sophisticated, antique look to your home. Though most faucets made of these materials are actually quite modern, oil-rubbed bronze requires special care to help it maintain its unique finish. Fortunately, most of the products you need to clean water spots off your oil-rubbed bronze faucets are natural and do not contain harsh chemicals. You might even have many of them at home already.
To begin, attempt to remove the water spots from your faucet using a soft microfiber cloth. Get the cloth wet with water if you are unable to remove the spots simply with the cloth itself. How Stuff Works explains that, while it might require a bit of elbow grease, you should be able to get some light water spotting off the faucet with just a towel or cloth.
You can also make a cleaning solution of 1 tablespoon salt to 3 quarts distilled water. The water should be warm to allow for proper dissolution. Gently apply this mixture to your faucet with a sponge or soft-bristled brush to remove water spots.
When you've finished using the salt water mixture, you'll need to carefully wipe all remnants of salt away from the faucet. Try a damp, clean cloth or towel that won't leave much lint, like a microfiber one, to remove the salt.
Add Vinegar for Cleaning Power
White vinegar, the champion of home cleaning, is a good choice for more stubborn water spots on your oil-rubbed bronze fixtures. You can try filling a spray bottle half with vinegar and half with water, then applying it to your faucet. Wipe away with a damp, soft cloth. Be sure to remove all remnants of vinegar, as its acidic nature could harm the bronze over time if not properly removed.
For very tough water spots, you can try a paste made of 1 teaspoon salt, 1 cup white vinegar and a small amount of all-purpose flour. You'll need to add enough flour that it forms a paste. Scrub the faucet with this paste, wiping it away periodically so you can get a sense of your progress. Continue to clean the faucet gently with the paste until the water spots are gone.
Use water and vinegar, an all-purpose cleanser or a bathroom chemical cleaner approved for use with bronze to thoroughly clean your faucets once you are done using the paste. Do not leave remnants of flour on the faucet, as it can eat away at the finish over time.
Proper Maintenance Is Essential
Overstock recommends frequent cleaning to keep your oil-rubbed bronze fixtures in tip-top shape. To keep bronze free of green film and corrosion, you'll need to engage in proper maintenance, like regular bathroom cleaning with products appropriate for use on bronze.
You should also be sure to dust your fixtures, as built-up dust mites can eat away at the bronze fixtures over time. Other commonly used products, like toothpaste and hairspray, can also be detrimental to the oil-rubbed bronze finish. You can try wiping down your fixtures with a soft cloth and warm water daily or using an all-natural, all-purpose cleaner each night.