Re-keying a Schlage without a key is difficult because the locks were purposely designed not to be easy. A locksmith could do this quickly, but may be expensive since they will need to do a house call without a key. New Schlage locks come with a reset key that allows you to re-key the lock without other existing keys. Before trying anything else, confirm that you do not have this special blue "SecureKey" technology available. If you find the resetting key from Schlage, buy a new set, including a new reset key and follow the instructions specific to that Schlage model.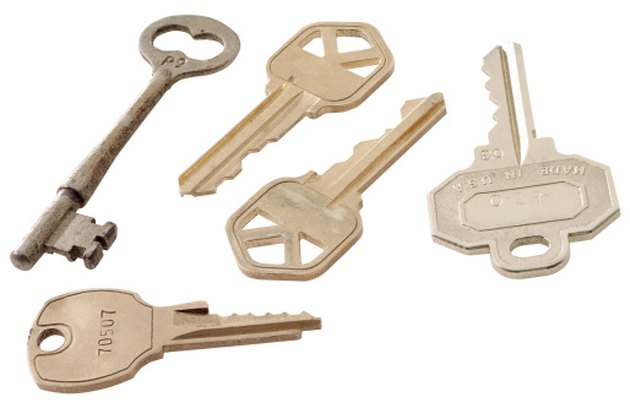 Step 1
Use lock-picking tools legally to unlock your own door.
Step 2
Use a paper clip to firmly press into the knob hole, located on the side of knob. Pull the knob off while the knob clip releases from the pressure you've applied with the paper clip.
Step 3
Separate the cylinder housing and use the retainer ring tool in the re-keying set to remove the retainer ring.
Step 4
Remove the cylinder plug from the cylinder by using the plug follower tool in the kit. Do this slowly and evenly. Otherwise, the pins may spring out and waste your time.
Step 5
Take out the old pins and put the new key in. Match the color-coded pins with their new destination by following the specific re-keying kit instructions.
Step 6
Reverse the steps with the new key in place, then lock the door once to secure the knob, cylinder and its housing mechanism.