A high-humidity bathroom provides an ideal environment for rust to form on unprotected metal surfaces, such as a metal medicine cabinet with peeling paint. Rust forms when iron in the metal combines with oxygen from moisture in the air to form iron oxide. You can find many products at hardware stores to dissolve rust, but you probably don't need to look any farther than your kitchen cupboards. All you need is an acid strong enough to dissolve iron oxide, and you probably have at least two right on-hand -- vinegar and lemon juice -- which are both nontoxic.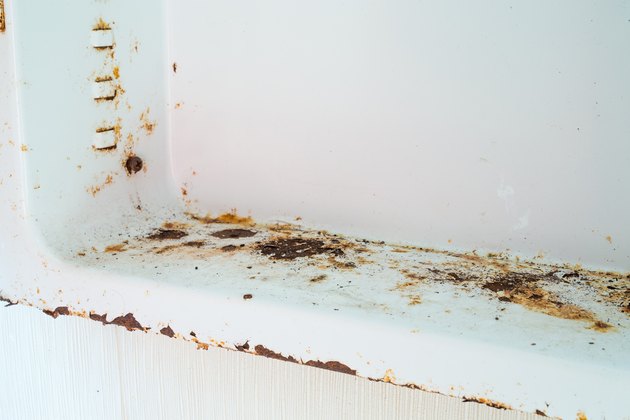 Empty the medicine cabinet and take it down from the wall; place it on a flat surface. Remove the door by unscrewing the hinges with a screwdriver.
Scrape off all flaking and peeling paint with a paint scraper and wire brush. Use the wire brush and a piece of medium steel wool to scrape off as much rust as you can.
Mix table salt and white vinegar into a thick paste that is fluid enough to remain on the vertical parts of the medicine cabinet without falling off. Spread it on the rusted areas, let it sit for an hour or two, then scrub the rust, using a toothbrush. Rinse the area immediately with water after you're finished scrubbing.
Make another paste using baking soda and water and use it to scrub down the rusted areas. Baking soda is alkaline and neutralizes the acetic acid in vinegar. Because the baking soda paste also deodorizes and cleans, it's a good treatment for the entire medicine cabinet.
Wash the entire medicine cabinet with a mild detergent solution, such as 1/2 ounce of dish detergent mixed in a gallon of water immediately after treating it with baking soda. Rinse with clear water and dry the metal with a towel.