Installing real wood flooring can be a great way to enhance the beauty of your home. Many homeowners, however, do not like the way real wood is easily dented and damaged, how the color fades over time or the higher cost. Luckily, flooring manufacturers have several durable options that resemble real wood without the extra cost.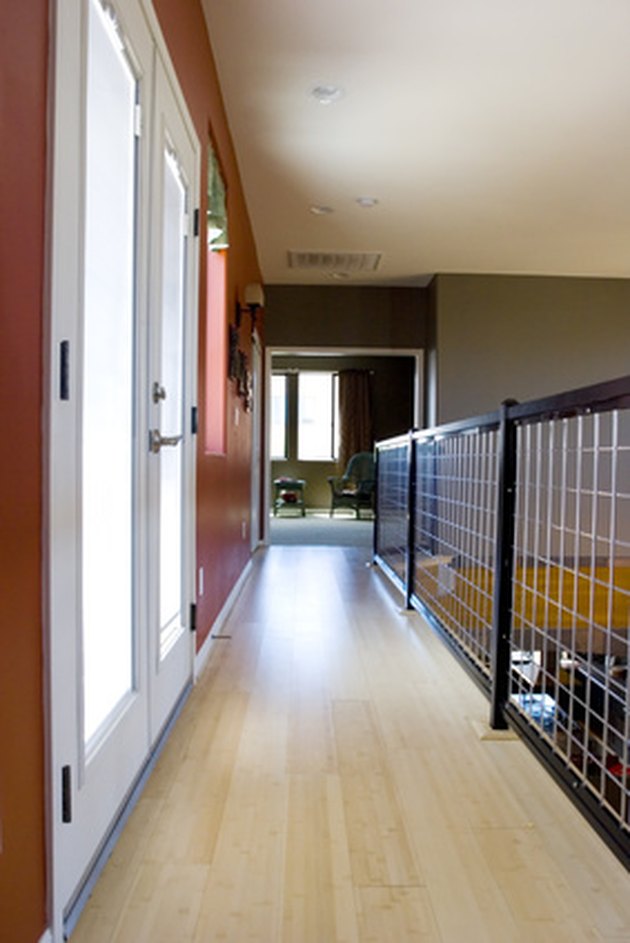 Laminate flooring is a very durable and attractive type of flooring that resembles real wood. This type of flooring is made from several different materials that are bonded together under very high pressure. The materials usually consist of a moisture-resistant layer covered by high-density fiberboard. This layer is topped with an actual high-resolution photograph of real, natural wood flooring. The photograph is covered by a hard, clear coating made from resin-coated cellulose. This flooring looks realistic, and is much more resistant to damage by pets and children than real wood.
Vinyl flooring is a resilient type of flooring that is often offered with a wood grain pattern. This flooring is actually made from plastic, which makes it durable and moisture-resistant. The moisture resistance makes it a popular choice for kitchens and bathrooms. Vinyl flooring is sold by the square yard in sheets, which are usually 12 feet wide. Vinyl flooring can come in a wood-grain pattern, but it looks the least realistic because it lacks the real wood look and texture. Vinyl flooring is one of the least-expensive flooring options.
Vinyl plank flooring is another type that resembles real wood. It is made from a higher quality plastic than traditional vinyl flooring. This higher quality allows the flooring to be more moisture-resistant, more durable and last longer than a traditional vinyl floor. This type of flooring is textured, which makes it look much like a real wood floor. Vinyl plank flooring is sold in boxes, which contain strips of flooring. The planks allow you to stagger the flooring during installation, much like a real wood floor.