The flooring in your home anchors each room. If it is bland, worn or seriously dated, it can bring down the entire aesthetic of a room. Fake wood flooring can revitalize your space. It's relatively easy to install, it's inexpensive and it comes in a wide variety of choices.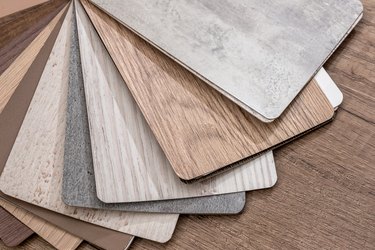 Fake Wood Flooring
The look of wood adds warmth to a room. Whether it is a light gray, weathered wood style or a deep, rich cherrywood look, there are many ways to achieve the look of wood without actually buying a wood product.
Some faux flooring materials use wood in their construction, while others rely on technology to achieve an authentic wood look.
Types of Faux Wood Flooring
If you thought selecting the right style and color for your faux flooring project was the only thing you had to choose, then you were mistaken. There are a plethora of choices for fake wood including but not limited to:
Shades
Shapes
Sizes
Application
Texture
Width
Finish
There are many ways to adhere the laminate to your floor, including:
Glueless laminate
Glued laminate
Preglued laminate
Click-and-lock laminate
Engineered Faux Wood Laminate
Engineered wood is created from thin layers of real wood that are glued together perpendicularly so the plank is stable. This can cut down on how large or long the engineered laminate board can be. It is covered in a thin layer of acrylic finish.
Engineered faux wood laminate is more expensive because it includes actual wood. It is one of the more durable types of faux wood flooring with an acrylic top coat.
Plastic Faux Wood Laminate
A plastic laminate floor is made from a resin-saturated fiberboard center that is sandwiched between a layer of melamine and a layer of wood grain print. The top faux wood design is covered in a protective clear, hard plastic.
Luxury Vinyl Plank Flooring
The wide swath of vinyl plank flooring you put down offers the look of hardwood. It is as durable as laminate wood flooring. So, what's the difference? Vinyl is much more cost effective.
Luxury vinyl plank flooring ranges between $3 and $7 per square foot to install. It comes in a wide range of colors, patterns and designs from which to choose, from classic, rich mahogany to the trendy farmhouse silver wood hues.
It can be found in standard 2-inch boards or as large format tiles. A luxury vinyl plank floor is usually glued down, although some come with prefitted click-and-lock mechanisms that are fairly easy for DIYers to install.
Ceramic Tile Faux Wood
Ceramic tile is durable and delicious to behold. It's also easier to maintain and clean than other flooring materials. A ceramic tile floor with a fake wood effect can stand up to water and stain issues better than its vinyl, laminate and hardwood flooring counterparts.
Ceramic tile with a faux wood pattern etched into its matte or glossy finish has quite a few benefits, including:
Value – Ceramic tile offers a high-end look for less. It is less expensive to produce than hardwood and some luxury laminates.


Size – Ceramic tile comes in short planks, large squares, long and thick boards and other sizes to add a design element to your flooring that other laminate flooring products just can't do.
* Durability – While water can seep between the joints of vinyl and laminate flooring, it won't damage tile. Spilled milk won't buckle the flooring as it would if it seeps between the seams of laminates. It will also stand up to scratches from pets, toys and other items that may gouge other types of fake wood flooring.


Versatility – Ceramic tile can be placed in highly humid areas without issues. This allows you to extend a faux wood floor theme into a kitchen or bathroom. This can be especially useful when decorating open floor plans.
---
Kimberley McGee is an award-winning journalist with 20+ years of experience writing for a variety of clients, including The New York Times, Las Vegas Review-Journal Home section and other national publications. As a professional writer she has researched, interviewed sources and written about home improvement, interior design and related business trends. She earned a B.A. in Journalism from the University of Nevada, Las Vegas. Her full bio and clips can be viewed at www.vegaswriter.com.