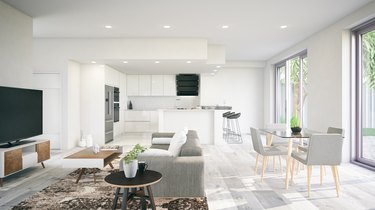 Laminate wood flooring is known to be durable and long lasting, but there will come a time when at least part of it will need to be replaced. Your floor may have suffered water damage, causing areas to become rotted. Or part of your flooring may have some sun damage, resulting in mismatched floors boards.
Whatever the reason, it's important to know your options when trying to match laminate wood flooring.
How to Match Laminate Flooring
Step 1: Track Down the Flooring
Use one of the boxes that the laminate flooring came in to identify the manufacturer's name, the model number and the name of the flooring color. Use this information to search online, either by going to the manufacturer's website or by doing a general search. You can also contact the manufacturer by phone or email to see if the flooring is still being produced.
If so, contact the store where you bought the flooring to find out if your flooring is still sold or in stock. If there isn't any in stock, they may be able to order some. And if the flooring has been discontinued, the store may have some remaining stock in storage that you can purchase. Also check online at online resale sites like eBay to see if anyone has extra boxes of the flooring you need posted for sale.
Step 2: Match and Measure a Floor Board
If you no longer have the box the flooring came in, remove a couple of the edge pieces of your flooring from along a wall and bring it with you to a flooring store, preferably the store where you made the original purchase. You may see numbers on the back of the laminate flooring, but these are usually just batch numbers and not model or series numbers. The store should be able to match your flooring with samples to come up with a match.
If you don't have the tools or can't remove part of your Pergo flooring or other laminate wood flooring, you can still measure the size of a board, including length and width. Write down the measurements and take them with you to the flooring store. Because many types and brands of laminate flooring are sized differently, knowing the dimensions of your flooring will help you find the right match.
Step 3: Take Clear Photos
Take a few photos of the floor using your phone or digital camera. Take the pictures from different angles because lighting can make the floor appear lighter or darker than it really is. Try to take the photos in natural daylight rather than using lamps or lights, and make sure the floor is clean. If you are unable to bring a sample to the store, a few photos, along with the measurements, will make it easier to compare the samples with color and size of your own flooring.
Step 4: Buy a Little Extra Laminate Wood Flooring
If you are able to find laminate flooring that matches yours, you might want to consider purchasing more than you need, maybe a few extra boxes for future use. Having a little extra on hand can't hurt, because manufacturers are always updating their laminate flooring colors and styles due to current trends. This means discontinuing older or less popular flooring.