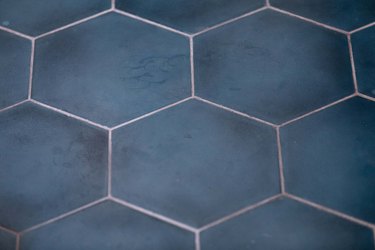 Peel-and-stick tiles are a very common flooring option. They are installed easily and can be used almost instantly after installation. With a variety of peel-and-stick vinyl flooring options available, it is a great option for homeowners or renters who want to spruce up their spaces without the commitment or cost of laying new flooring. However, when it is time to remove the vinyl, it can be a bit tricky — and sticky. But with the right tools, you can get the job done in no time.
How to Remove Peel & Stick Vinyl Tile Glue From Floor
Step 1: Heat Up the Tiles
Check for vinyl tiles that are still stuck to the floor. You will want to heat the vinyl flooring to loosen the glue. This can be achieved using a blow dryer to heat up each individual tile or section of vinyl. Turn the blow dryer on its highest setting and try moving it around for about 30 to 60 seconds.
Another heat source, like a heat gun, could be an option but be careful since this tool is a bit more complicated than a blow dryer. However, if the tile is older, you may need to use a heat source that is stronger than a blow dryer. Tiles can become even stickier over time.
Step 2: Peel Up the Tiles
Once the tiles are warm enough, they should come off fairly easily. Start by slowly lifting up one of the corners of the tile. You can use a paint scraper or a similar tool to lift it. It is best to try to remove the tile in one piece. Focus on heating up one tile at a time; this will loosen the adhesive and make it easier to remove the tile.
Step 3: Remove the Adhesive
Once the tile is removed, it is likely that there will be sticky residue on the subflooring. Using an adhesive remover will get the last of the glue off the floor. To apply the adhesive remover, you can use a paintbrush or paint roller to evenly cover the surface area. Follow the manufacturer's directions to apply the product as specified.
Step 4: Vinyl Floor Adhesive Remover
When the adhesive remover has been left on for the directed amount of time, begin scraping the glue off the subflooring. You may want to keep a small trash can or trash bag nearby because there will be excess glue and remover to throw away.
Depending on what was under the vinyl floor, there may be one adhesive remover that is better than another. Concrete, wood, or tiles are the most common floorings that could be under the vinyl you're trying to remove.
Step 5: Clean the Peel-and-Stick Vinyl Flooring
Once all glue from the peel-and-stick flooring has been removed, you'll want to clean the flooring. Use a mop and water to clean up any remaining adhesive remover or glue that could have been left behind.