Things You'll Need
Adhesive remover

Block of dry ice (optional)

Gloves (optional)

Broom or vacuum

Paint brush

Paint scraper

Small garbage can

Water

Mop bucket

Clean rag
Tip
Many types of adhesive removers are available, so it is important to purchase a remover that is designed to remove vinyl tile adhesive.
Warning
Dry ice can cause frostbite on contact with skin. Always use gloves and work with the ice in a well- ventilated area. Similarly, adhesive remover can damage skin and clothing. Always wear protective clothing.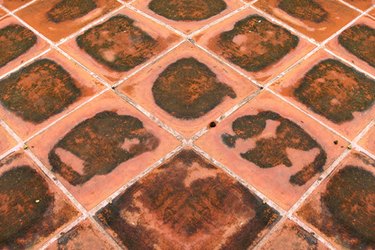 Peel and stick tiles are one of the most common flooring options. They are installed easily and can be used almost instantly after installation. However, removing peel and stick vinyl tile can be unusually difficult, which is especially true for the glue that is left behind from the tiles. If you have a floor that is covered with glue or adhesive that has been left by a vinyl tile floor, you may be frustrated. Leave that frustration in the dust by easily removing vinyl tile glue from your flooring.
Step 1
Check the floor for vinyl tiles that are still stuck to the floor. The adhesive will only work if applied directly to the glue on the subfloor. If there are still several tiles stuck to the floor, place a piece of dry ice on the tile. The tile should pop off easily, leaving the glue in place.
Step 2
Use a broom or vacuum to remove dirt, dust, and debris from the floor.
Step 3
Use a small paint brush to apply the adhesive remover to the glue on the floor. Read the manufacturer directions to determine how long the adhesive needs to sit on the glue before removal.
Step 4
Scrape the glue and adhesive remover from the floor with a paint scraper. The glue should easily come off the floor if allowed to sit on the adhesive long enough. There will be excess glue and adhesive remover to throw away. Keep a small trash can next to you while you are scraping to make cleanup a cinch. Repeat the removal process until you have removed all of the glue.
Step 5
Clean the floor with water, a mop bucket and a clean rag. As you clean, ensure that you have removed all of the adhesive remover and glue.