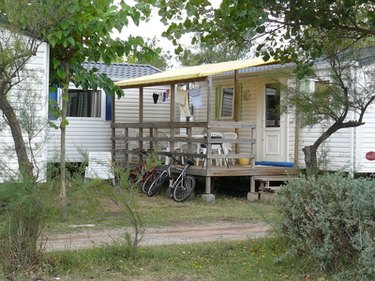 When you find yourself outgrowing your current mobile home, it can be tempting to think that building an addition is a feasible solution to your problem. While it is possible to build a room extension on your existing mobile home, it is not something that is easily accomplished without knowledge of mobile home additions and much preparation. If you do not take the necessary precautions, you may experience issues including settling, shifting and separation from the base home.
Step 1
The function of the room to be added on is your most important consideration. If you are building a porch, deck or carport, the area does not need to be weatherized. This is the simplest addition if you are trying to do it yourself and do not have knowledge of building extensions to mobile homes.
Step 2
Dig trenches for footings. The footings must be placed below the frost line to prevent damage from shifting.
Step 3
Pour concrete footings to create a strong base for underpinnings to rest on.
Step 4
Build the underpinning foundation. The simplest way to do this is by using concrete blocks. You will need to place ventilation blocks if you build a complete wall for your support structure. Doing this allows condensation to escape from under the mobile home.
Step 5
Construct the frame for the addition. When building the frame, do not attach it to the existing mobile home. Additions may be connected by siding and roofing materials but should be independent structures to an extent. This allows the mobile home and the addition to shift independently.
Step 6
Insulate all walls of the addition. Doing this will save you a considerable amount of money on utility bills.
Step 7
Finish the interior of the walls using paneling or 1/4-inch drywall. Do not use thicker drywall as it is not necessary in this application and places unnecessary weight stress on your frame.