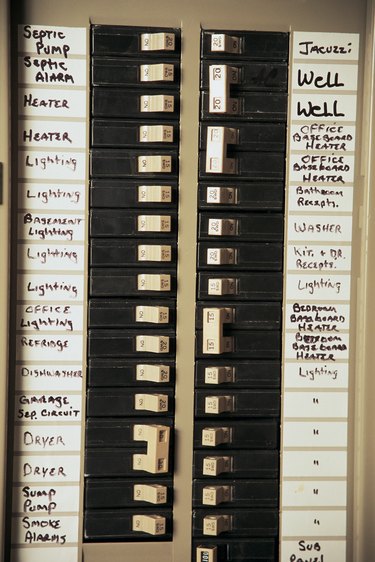 Electrical panels are manufactured by a variety of companies, each with a particular design of panels and circuit breakers. Because each company manufactures panels and breakers differently, it is important not to attempt to install breakers of a different brand than your electrical panel. QP brand breakers should only be replace with other QP breakers, or you can risk an electrical fire or malfunction.
QP Breakers
QP breakers are manufactured by Siemens, and are designed to fit in Siemens breaker panels. QP breakers, like other Q series products manufactured by Siemens, are designed for home consumers, and are frequently found in new construction and in home electrical panels. These breakers are designed to snap into a panel, so the hardware needed in the electrical panel needs to allow for snap-in breakers, rather than the style of breakers that bolt in using an external screw.
Square D
In residential construction, another common type of circuit breaker and electrical panel is manufactured by Square D. Like the Siemens Q-series, Square D home panels are designed for snap-in circuit breakers. In many cases, a Square D type "QO" panel can accommodate Siemens Q-series circuit breakers, but this is not always the case. It is important to check with a qualified electrician or an electrical supply house to ensure that you can use interchangeable breakers in your panel.
Potential Risks
Since all breakers are not interchangeable with QP breakers, using another brand can result in an electrical fire or issues with circuits. Even if a breaker appears to fit in your panel, the connection might not be as secure as a breaker of the correct brand. For example, a QP breaker is designed to snap into a QP panel, while a Square D or Cutler-Hammer circuit breaker might be slightly different, creating a greater potential for problems.
Other Considerations
If you are considering replacing a QP breaker with one of a different brand, you should always check the electrical panel's documentation to ensure that using off-brand circuit breakers will not void your warranty. In these cases, switching brands could lead to problems with your homeowner's insurance if there is ever a problem. You should always have a qualified electrician tell you if you should replace a QP breaker with another brand.
---
John Shortino has written for numerous publications, including the "Philadelphia Inquirer." Some of the subjects he has written about professionally include books, film and business. He is currently pursuing his Master of Fine Arts in creative writing at Temple University.