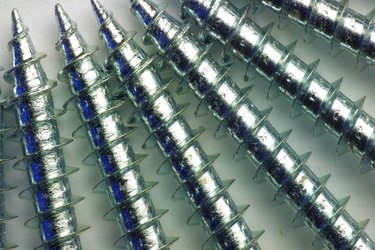 Even simple home improvement jobs get complicated by confusing instructions and obscure materials, like self-locking screws. It's difficult to find the right materials for the job if you don't understand what the materials do, or why you need them. Self-locking screws are not so different from ordinary screws, but they may change some things about your building or remodeling project.
Using Screws
Screws are a common item used to hold metal, wood, drywall and other building materials in place, or to secure something to one of these materials. Commonly, screws are used in conjunction with bolts or washers, which are set in place to reinforce the screw. All screws have a unique ribbing along the shaft, known as threading. Because of the threading, screws must be pressed down and twisted into place. The threads screw down into the material in which the screw is driven. To remove them, the screws must be twisted in the opposite direction, or unscrewed.
Threads
Self-locking screws are defined by the angle of their threads. The threads of self-locking screws are precisely angled so that, once the screw is placed, they will not slip or move unless some additional force is applied. After you have screwed a self-locking screw into position, it will not move again unless you use a screwdriver or similar tool to remove it from position. You will have to use force to unscrew a self-locking screw even with the proper tool; they are designed to stay in place.
Accessories
The unique thread pattern on self-locking screws makes them stand-alone screws. Because of the way they are designed, you do not need to add a bolt or lock washer to a self-locking screw. If you have a big project that calls for many screws and washers, you could cut your material list almost in half by choosing self-locking screws that require no additional accessories.
Using Self-Locking Screws
Always use the proper screw drivers to put self-locking screws into position. Screws are made with distinctive heads, which are engraved so a corresponding screwdriver may be locked into position. The screwdriver acts as a lever to turn the screw. If you set the screw improperly, it is extremely difficult to remove later.