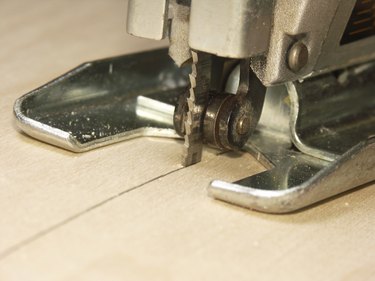 Based in Towson, Maryland, Black & Decker offers a line of five jigsaws, ranging from 4.5 to 6 amps. Higher-end models, at time of publication, include an orbital forward-and-back motion as well as up and down. How you change the blade on current and older models depends on which of three types of systems your model features.
Quick-Change Blade Mechanism
Higher-end models, such as the Linefinder Orbital Jigsaw, feature a clamping lever to hold the saw blade. To change a blade, switch off the jigsaw, unplug it, and let the used blade cool down. Pull up the saw-blade locking lever and let the used blade fall out with a slight shake. Turn the jigsaw upside down. Hold the fresh blade with its teeth forward; insert the blade shank into the blade holder as deeply as it will go. Release the lever and wiggle the blade to confirm that it's snugly in place. For models with rollers, such as the Accu-Trak, nestle the blade against the rollers.
Clamp or Hex Screws
Loosen the pair of screws -- on the front of the mechanism of models such as the single-speed jigsaw -- a full turn counterclockwise with a flathead screwdriver, but do not remove them. The used blade will fall out. Insert the new blade fully into the clamp. Lightly tighten each screw alternately and then fully. On older models, you may find a single hex screw on the side of the blade. Loosen this enough to remove the blade, and then insert a new blade carefully so the teeth face forward. Retighten the screw.