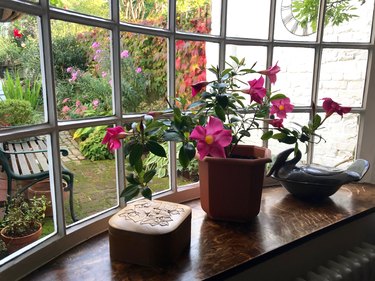 Talk of windows can get complicated fast if you don't understand the subtleties between bow and bay windows versus dormers and garden windows. Windows that stick out from the building have a long list of pros and cons, but they're popular because they can increase the amount of light in a space more than a flat window would, and they also add architectural complexity.
Bay Window
With three sashes joined to angle out, the bay window can often provide interior seating and storage. The large center sash holds the largest of the three windows, which runs parallel to the front of the home. The two side sashes containing smaller windows tend to angle out at either 30 degrees or 45 degrees. A "box bay" window is installed with side sashes on right angles, giving a deeper projection, which is popular for kitchen sink areas.
Depending on where and how the bay window is executed dictates if roofing is needed. Some are installed directly under the eaves, making additional roofing moot.
Bay windows have been popular for centuries because of the architectural detail they provide outside and the utility they afford indoors. For some, there's no place better for daydreaming than sitting on a banquet bench installed as part of a bay window.
Garden Window
These are like bay windows in that they're designed to project out with ample space for a counter or shelf where the sill is. There's no roof here, but instead, the top of the projection is glass too, creating a mini-greenhouse effect for plants that may be grown in this window. Garden windows are also boxier, like the box bay, in that the side windows protrude at a 90-degree angle to give straight sides, along with a straight front. The only angle tends to be on the top of the window where the glass will slope down to let precipitation drip off.
While these are usually quite a bit smaller than bay windows, they're terrific for providing light and are popular in kitchens, as it can make an afternoon spent prepping foods and cleaning up so much more pleasant with all the natural lighting — especially in cold winter months.
Bow Windows
Again, these are very much like bay windows but are a little trickier architecturally and potentially offer less utility. Bow windows project out less than bay and garden windows, and they use more sashes to achieve the effect. Bow windows are comprised of as many as six sashes and panes, but each is the same size, and the angling out is more subtle than the sharper angles on a bay window.
Bow windows can be great for scenic vistas, as that rounded front gives expansive views, but it'll come at a cost of as much as 2.5 times that of bay windows due to the complexity of the installation.
Considerations for These Windows
There's a myth that these windows, and dormer windows that project up out of the roof with their adorable little peaks, leak more than other windows. That shouldn't be the case for quality windows. But with the window sizes that can be at play with these large feature windows, it's important they be great at energy conservation. It can also be a little trickier to get window treatments that work for the space and may require custom-made blinds or curtains.