Things You'll Need
Masonry chisel

Hammer

Circular saw

Masonry saw blade

Drill

1/4 inch Drill bit

Tin snips
Tip
Make sure there are no plumbing or electrical lines where you are cutting. Wear eye protection when removing stucco from an exterior wall.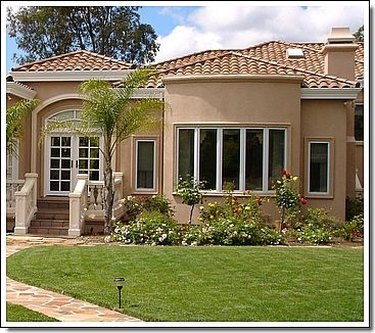 Removing stucco from an exterior wall is a necessary step in many home projects from installing a door or window to repairing the stucco wall itself.
Step 1
The first layer of an exterior stucco wall is the stucco itself. Take a 1/4 inch drill and drill a hole in the corner of the rectangular opening.
Step 2
Using a chalk line or pencil and ruler mark along the out side of the opening you are planning to create by removing the stucco.
Step 3
To account for the trim around the door or window draw a second line next to this. The distance between the original outline and the second outline should be the thickness of the trim.
Step 4
Now take a circular saw with a masonry saw blade installed and set the blade depth to 1/4 an inch. Cut the stucco on the outside set of lines you drew. Stop an inch or two from each corner so you don't cut past your markings. Leave an curved areas for later.
Step 5
Once you have finished your first pass with the saw increase the blade depth another 1/4" and repeat the process. Continue this until you hit the metal lath underneath the stucco. You will know you have cut through the stucco when you see sparks from the lath.
Step 6
Any curved areas need to be cut with a masonry chisel and hammer. You will also use the chisel and hammer to remove stucco from the corners that was left by the saw.
Step 7
Use a sledge hammer to break up the stucco in your opening and remove it.
Step 8
Underneath you will find the metal lath. Cut this with a pair of tin snips and pull it free of the wall.
Step 9
The final layer of the stucco wall is a wood sheathing that may have a weatherproofing membrane on it. Cut this with your circular saw or a reciprocating saw.