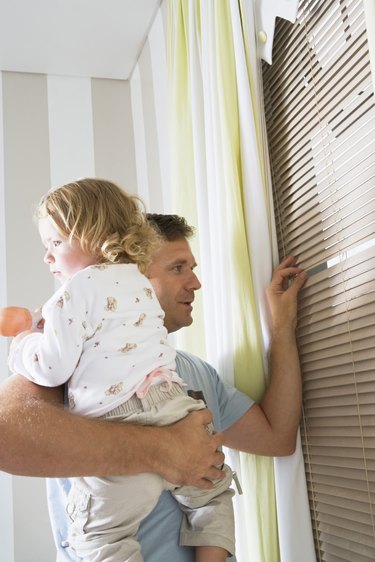 When it comes to choosing the color of blinds to go with your white-trimmed home, there is no hard and fast rule followed by decorators and interior designers. Consider your own personal tastes, as well as the function you intend your blinds to serve. If blocking light and maintaining privacy are your goals, you are limited to blinds that serve that function. If you wish to draw attention to the windows, this requires a different color choice than if you want to draw attention away from the windows. You can set the tone of a room with the right color of blinds.
Shades of White
Match the blinds to the trim and choose a white that matches the trim. There are many shades of white, from bright to off and everything in between. A white blind allows the windows to blend into and flow with the rest of the decor. If your focal point in the room is something other than the window, such as a piece of furniture or a painting, white blinds will not draw attention from it.
Neutral and Pastel
White is considered a neutral color, along with tans, beiges and wood colors. Pastels are faded variations of brighter colors, including pinks, blues, greens and purples. Choosing these colors for your blinds causes them to be a soft accent in a room without drawing too much attention. Using neutral and pastel colors also creates the illusion of space, which is ideal for smaller rooms.
Bold
Go bold if your wish is to bring warmth to, shrink down or accent the windows in a room. Dark colors enclose space, while rich primary colors accent the other decor in the room. Regardless of trim color, a bold blind adds interest and depth if carefully matched to the rest of the design.
Wood
Wood blinds are also an option with white trim. This is especially true if you have hardwood flooring installed or if you wish to carry the look of your wooden furniture to the windows. Match the woods so that the blinds are the same as either the floor or the furniture.