Things You'll Need
Warm water

Mild detergent

Soft cloth

Bucket
Tip
Some cellular blinds can be removed and fully submerged for cleaning. Refer to your owners manual.
Warning
Do not use cellular shades in bathrooms. The shades have a tendency to trap moisture from the air, accelerating mildew growth.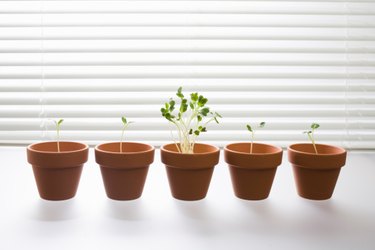 Installing cellular shades in your home serves a dual purpose. The shades allow natural sunlight in and extreme temperatures out. Your residence is able to maintain a constant comfortable temperature. Custom order your shades to fit any door or window. Cellular shades are composed of an adhesive that is dissolved when the wrong cleaning techniques are used. Pay close attention when removing mildew. A light touch and gentle soap must be used to avoid damaging your cellular shades.
Step 1
Combine warm water with a small amount of mild detergent in a bucket.
Step 2
Clean mildew from the cellular shade fabric. Apply water and detergent mix using a light touch and a soft cloth. Do not allow water into the seam area of the blind. Your adhesive could dissolve and ruin your shades.
Step 3
Allow cellular blinds to air-dry.
---
Splitting her time between El Paso, Texas and Philadelphia, Penn., Jade Blue began writing in 2009. Blue has written for various websites, specializing in travel-related topics. She holds a Bachelor of Science in psychology from Philadelphia University.