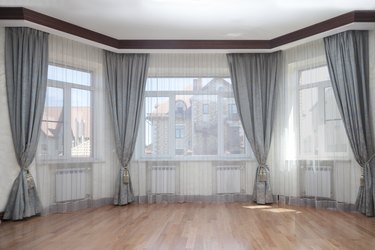 Standard drapery sizes correspond with uniform window dimensions used by modern architects and home builders. Draperies typically cover larger windows in formal living rooms and dens, while curtains with lighter fabrics hang on smaller kitchen and bedroom windows. The most common premade lengths are 63, 84, 95, 108 and 120 inches. Widths vary, but most are 45 inches wide. More than one panel is usually necessary to cover standard window designs.
Style Considerations
The length of drapery panels is measured from the top to the bottom of the panel. For rod-pocket styles, measure from the top of the rod pocket, disregarding any fabric that rises above it. Choosing the right length for your draperies involves not only the window dimensions, but also the preferred style of the room. Formal, elegant decor is complemented by drapes that fall to just above the floor. Pooling one to three inches of fabric on the floor is another style choice, but can create problems with keeping the draperies clean, vacuuming the floor beneath and creating a trip hazard. Brackets are sometimes installed 3 inches or more above the top of the window to create an illusion of even more height, especially with ceilings rising above the standard 8 feet. Likewise, width is expanded by installing brackets two or more inches past the window openings on either side. A general rule is that combined drapery panels should be 2 to 2 1/2 times the width of the window.
---
Wendy K. Leigh is a travel writer and photojournalist from Seattle. She is the Editor of Islands America, a travel website for visiting islands within the United States. She also writes about home design, food and historical architecture. Leigh holds a Bachelor of Arts in English from the University of Washington.