Valances are decorative drapery that are a quick way to change up curtains and to add style to any living room or bedroom. One of the easiest styles of valance is the scarf valance. Used to drape along the top edge of a window, a scarf valance can add texture to your room without blocking out any light or views. Whether a scarf valance is used independently, or paired with coordinating curtains, the scarf valance is quick to set up and looks beautiful.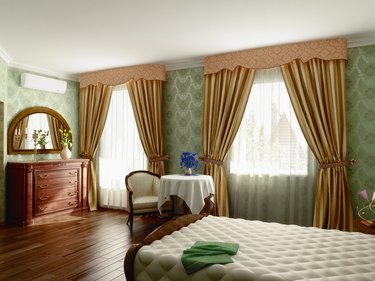 Draped Valance
For a long, flowing scarf valance there are a number of ways to hang the scarf. Since most scarves simply hang on top of the rod, the nice thing about scarf valances is that it doesn't need to be attached to anything. The easiest method is to find the center of your scarf and hold it to the center of the window. Then drape the ends of your scarf over and behind the rod along each end. For a shorter drape, it's best to use a scarf that's a little over twice the length of the width of the window. For several drapes or a long drape the curtain should be three to four times the width of the window.
If you have rod-pocket curtains attached to the rod, your valance should hang on the outer most portion of the rod, beyond the curtain. Fluff the body of the scarf to create a swooping arc of fabric. If your scarf is a long one, let the base of it pool at the floor for a particularly dramatic effect.
Twisted Scarf
For an artistic look when using top curtains, find the center of your scarf and slip the scarf center behind the inner most tabs at the center of your window. This should catch behind one tab for each curtain with the scarf body hanging in front of the curtains. Cross the scarf ends to opposite sides and loop them behind the rod ends. Spread the scarf as needed to create the fabric swag look. To make sure the scarf is long enough, aim for something that is three to four times the length of the window.
Cheater Valance
If you don't have a scarf to work with but want the quick look of scarf valance style, try this simple technique with your pair of tab top curtains. Pull both curtains to cover the window and then select which side of the window you want to open up. Pull the one curtain across to the other side and drape behind the end of the rod. Fluff out as needed. Use this same method for a larger window: simply hang four tab top curtains along the same rod with the two outer curtains matching and the two inner curtains matching. Pull each of the inner curtains to drape over the ends of the curtain rods to visually open the area of the window.