Stencils are a dream for craft lovers. You can use them to make your own slogan T-shirts with fabric paint, create a sign for your home or spell out an inspirational quote to frame and hang on the wall. And you don't need a fancy machine to make your own letter stencils. Download free templates online or create custom stencil lettering using your computer's word-processing programs. Then simply print, trace onto a sturdy material and cut into stencils that you can use again and again.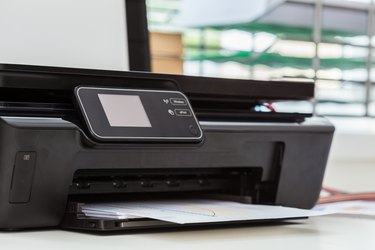 Find Your Type
There are various websites with free, downloadable stencil templates. Simply select from the fonts and type in the individual letters or words. Usually there are options to adjust the spacing and layout. Then, you just need to print out on cardstock. For letters bigger than your home printer can cope with, take the downloaded files to a print shop to enlarge them.
Do It Yourself
Creating stencils on a computer offers more flexibility and a personal touch. You can do this in most word-processing programs like Microsoft Word or Adobe Photoshop. Set the program to full-page view, so you know exactly what size the letters will be. Type in your words or individual letters and choose a font. You can select an existing stencil font or download one online. Alternatively, choose a font such as Arial and bold it. Enlarge the text to your desired size. Then, print directly on cardstock or paper.
Cut Out and Keep
If you printed directly on cardstock, this can be the stencil itself. Use a craft knife to carefully cut around each letter, leaving the inside of any loops or circles in an 'R', for example, attached to the card, which is now your stencil.
Trace Elements
You will need to trace flimsier paper onto a thicker material, such as cardboard or cardstock, before cutting out the letters to leave the stencil behind.
Fantastic Plastic
For a sturdier, reusable stencil that will last a little longer than cardboard or cardstock, place a sheet of clear thin plastic or acetate over your printout, without cutting out the letters first. Use painter's tape around the edges to attach the two layers together. Then, with a marker pen, trace the letters onto the plastic. Cut out the letters with a craft knife.
Sticky Stencil
A sticky stencil is great for a one-off project, such as spray-painting letters onto a poster or wooden sign. After cutting the letters from your stencil, place face down against the back of a sheet of contact paper, so the letters are back-to-front. Trace through the letters, and then cut the shapes out of the contact paper with a craft knife. When ready to use, simply peel and stick onto the surface you're using for the project, whether it's a T-shirt or a blank canvas.