Braided rugs are a classic element of farmhouse style derived from a need for low-cost and efficient decor options. Across decades of American history, braided rugs, sometimes known as rag rugs, were popular for their versatility and frugality. If you'd like to add a rustic touch to your home, a braided rag rug might be just the ticket. You can even make one yourself using some basic supplies that you probably already have on hand. Braided rugs are an inexpensive do-it-yourself weekend project to spice up your home's decor. All you'll need are some old clothes and sewing essentials.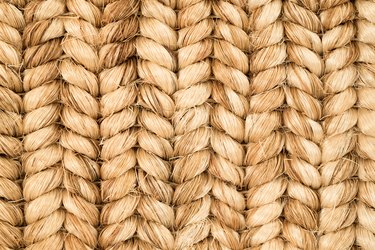 What You'll Need
To make a braided rug, you'll need the following supplies: old clothing or fabric (enough for you to cut 30 yards of 1-inch strips), scissors, a ruler, a pencil, a safety pin, straight pins, a sewing needle and some thread.
Plan Your Color Scheme
Depending on where you want your completed rag rug, you may wish to select fabrics of certain colors to complement your decor scheme. Keep in mind that prints on your fabric won't be as visible once the rug is complete. Picking colors that go well together and will match the room you plan to keep the rug in is a safe bet.
Measure Your Fabric
Use a ruler and pencil to mark across the top of your fabric in 1-inch increments. You'll ultimately be cutting the fabric into strips that are 1 inch wide each, so you may wish to extend your measurement lines to the bottom of the fabric, as well.
Cut Your Fabric into Strips
Carefully cut your fabric into 1-inch strips along the lines you marked. If the strips are slightly uneven, you don't need to worry. You'll be braiding the strips together, so you won't notice small variations in width.
Remove Fuzz or Stray Threads
Once you've cut your fabric into strips, you may be left with fuzzy edges or stray threads. Carefully peel these off and dispose of them.
Separate Your Fabric By Type
Make a pile of each type of fabric you've cut. Next, using thread in a like color, sew your like fabric strips together, short end to short end, until you reach a length you're comfortable braiding. Making the combined strips too long can make braiding cumbersome. By sewing strips together, you'll be creating several long strips of each fabric variety. Don't forget to tie off your thread securely.
You can have multiple long strips of each type of fabric. However, for a typical rag rug, each kind of fabric should be about 10 yards in length overall. This means you'll need 30 yards of 1-inch strips to make a rug (three sets of 10-yard strips).
Before moving on to the next step, roll your fabric strips into balls to keep things neat when it comes time to braid the fabric.
Stack the Ends of Your Fabric Strips and Secure
Select three fabric strips and stack their short ends together. The rest of each strip should still be rolled into a ball. Sew the short ends of these three fabric strips together securely. Then, place a safety pin through the end of the stack that you just sewed. Pin this stack to an ironing board, upholstered chair or another immobile fabric object that you don't mind putting a pinhole in. This will keep your fabric strips steady while you braid your rug.
Braid Your Strips Together
Now you're ready to braid your rug. Be sure to keep the braid tight. As you reach the end of a set of strips, tie a new piece of fabric of each variety to the end of its corresponding fabric in your braid. Continue until you have braided all of your fabric strips. Tie off the end of the braid once you've finished. Sew the end of the braid for extra security.
Coil and Sew Your Braided Rug
Remove the safety pin securing your braid. Starting at one end, begin to coil the braid tightly. Use straight pins to help hold the coil in place while you work. Carefully remove the straight pins holding your coil together one at a time and use thread to sew the braided coils to one another.
Finish Your Rug
Sew the end of the braid tightly under the rug to finish it off. Be sure all coils are securely attached to one another.
Voila! With a bit of time and some unwanted fabric, you've made an inexpensive upcycled braided rug to warm up your floors and spice up your decor. Enjoy!