When reading through real estate listings, types of rooms are as important as how many and how big they are. If you're looking at luxury properties or acting on a lifelong dream to buy a character home, the rooms may be different than those you're accustomed to seeing. Even if you're familiar with the rooms in a house, you might wonder why a listing cites "two bedrooms and a den." What traits and characteristics classify rooms?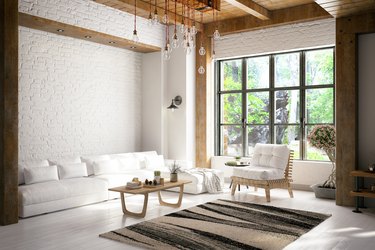 Bedrooms vs. Dens
For starters, what distinguishes a bedroom from a den? Bedrooms have closets, and dens don't. If you're looking at a condo with a den, it's easily converted to a bedroom with the addition of storage like a large armoire.
Closetless dens are ideal for storage, a home office, a reading room, a craft corner or whatever you can dream up. For a den to be a home office, ensure it has convenient and ample power sources for any tech or equipment you'll need, but it's worth noting that dens tend to be smaller than bedrooms.
Other Types of Rooms
Bathrooms come in three styles. The "½ bathroom" is the same as a "powder room" – just a toilet and sink, usually located in the main floor's living area and perfect for dinner guests and visitors. The "¾ bathroom" is often found near a guest bedroom, in basements or in small apartments, and it's comprised of a toilet, sink and shower stall. A "full bathroom" packs a bath, shower, sink and toilet.
Common in rural homes, mudrooms are usually adjacent to the most-used entry. It's the place to kick off dirty boots, hang wet coats and transition from outdoors to indoors without tracking filth or clutter into the living space. A great mudroom needs hooks to hang coats separate from closets to dry after a day in bad weather, water-resistant flooring to deal with mucky boots and seating for putting on boots and shoes. Storage for everything from mittens and hats to scarves and umbrellas is ideal.
Wonder how a living room and family room differ? The latter is meant to be informal and comfortable, with the living room historically intended for formal entertaining.
Luxury Ideas for Spare Rooms
The dayroom is a throwback to when people had more time. It's the perfect place to nap or read. Think comfort, ample daylight, maybe a jigsaw puzzle spot and a table for tea and snacks.


Home theaters and games rooms come in and out of vogue, but they're perfect for families and friends who like to watch movies, play pool or darts, play board games and even play video games.


A dressing room is a Victorian pleasure. For the fashion fiend, this room is a shrine to clothes, with a vanity, mirrors, shoe storage, jewelry storage and more. It's a walk-in closet that's out of the closet.


A playroom is a land of adventure and make-believe, packed with toys, books and other vehicles for imagination. No grown-ups allowed!


A library or reading nook is perfect for book lovers who need to organize their books and crave a Zen spot to chill with beloved authors. A comfortable chair, ample shelving and good reading light are essential.
Different Room Names, Different Eras
Over time, homes changed to meet our needs. No longer are there root cellars for storing foods, thanks to refrigerators and freezers. Gone are coal rooms in the age of central heating.
Those viewing character homes may wonder what one does in an anteroom, how to use a great hall or how to repurpose the awkward attic bedroom that once belonged to house staff. Dream big. A home gym, a bar lounge, a sewing room – any room you want is possible with some paint, furnishings and imagination.