Depending upon the vintage and style of your home, it may contain an array of different rooms. These rooms vary in function and are not present in all residences. The types of rooms fill your home space will determine how each room is used as well as how you should best go about decorating your home interior.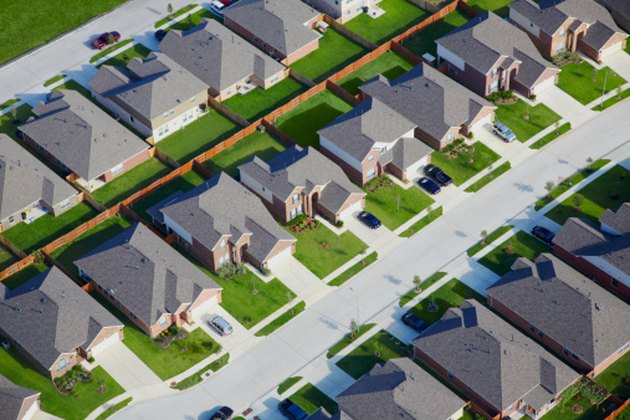 Nearly all homes contain a bedroom. This room generally houses not only the bed but also the owner's clothing and other items used when getting ready for the day. Often times, this room is also home to a television and sometimes even a sitting area depending upon the size.
Depending on the size of the house, a home may have one or more bathrooms. Many older homes have only one bathroom that all residents must share. Newer homes often have at least two bathrooms, some containing a bath and toilet and others only a toilet. In exceedingly old homes, built before indoor plumbing, the bathroom may be oddly placed if it was an add-on.
Many families enjoy spending time together in the kitchen. It is in this space that meals are prepared. Some kitchens also include eat-in space for a table.
Some homes also house a formal dining room. These rooms often feature decorative light fixtures centered over the table. They may also contain a formal dining table along with a hutch or other piece to house fine china.
A family room, or den, is present in some form in almost every home. This room often holds entertainment equipment and seating areas and is intended to serve as a place for the family to gather together.
In addition to, or in place of, a family room, some homes have a living room. While living rooms can serve a number of functions, they are often a more formal space used for the entertaining of visitors.
With many individuals completing some or all of their work within the home, a home office is becoming almost a necessity. Some homes have rooms specifically designed to act as an office, while in others people must create office space in an extra bedroom or other unneeded room.
While some homes house laundry facilities in the basement, and others have no facilities at all, many modern homes have laundry rooms. These rooms are often on the main floor or sometimes even the second floor, allowing for easy laundry completion.
In some houses, you can find a mudroom, or a small room that rests between the back door and the interior of the home. These rooms are generally intended to give residents a place to take off their potentially-messy outerwear.