For its typically small size, the bathroom requires a number of items, beyond toiletries and cleaning supplies. An accessories list provides options to help you customize a space that's dampness-friendly and decadently stylish.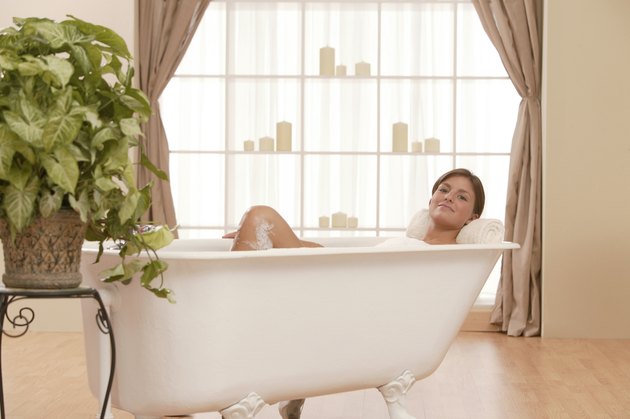 credit:
Comstock Images/Stockbyte/Getty Images
Accessory Necessities: Think "Sink"
Many of the needed accessories live on or near the bathroom sink. Here, you want a soap holder, toothbrush holder and hand towel on a towel bar. If counter space allows, a facecloth tree comes in handy, and a sea glass or ceramic trinket or two adds sparkling elegance that won't succumb to water damage. For small sinks, such as a pedestal-style unit, hang an attractive three-tier basket off to one side for rolled towels and facecloths, and toiletry clutter.
Warm up a cold, sterile bathroom by including textural accessories beyond the towels. Opt for a linen or cotton shower curtain and liner rather than the plastic one-piece type. Place a wood-slat bathmat in front of the tub and a thick, nubby cotton one in front of the sink for hard and soft variety. Humidity-loving plants -- in hanging baskets or as a vertical-garden feature wall -- give the space life and organic form.
The bathroom is a humid or, at times, downright wet space, meaning that your art should be damp-proof. Your list of artsy options includes abstract or figurative metal silhouettes, decorative tile art, stained glass, a laminated-photograph mobile or grouping of decorative mirrors -- or a paintbrush and paints, or quality vinyl clings, with which to create a mural up the focal wall and even onto the ceiling. Other wall items include grab bars to mount near the tub and toilet, if needed by an elderly or disabled occupant.
Often, it's a -- big or small -- or two that boosts the bathroom's visual spark. If possible, include a heated towel stand or the wall-mounted version when space is limited. Go for a good-looking chrome bath caddy or tray for across the tub. A body-jet system energizes your showers, and a slow-close wood toilet seat with nickle hinges means yes to quality comfort and no to jarring slams or cracked-plastic pinches. Even upgrading plastic storage containers to painted or sealed wicker baskets, glass jars or metal mesh bins improves the room's persona, creating a less pedestrian, more spalike experience.