The key to decorating around natural wood kitchen cabinets is to avoid detracting from the beauty of the wood. Natural wood calls for natural decorations. Choose a garden or country theme when decorating a kitchen with natural wood cabinets. Accentuate the natural beauty of the wood cabinets with paint, fabrics and accessories.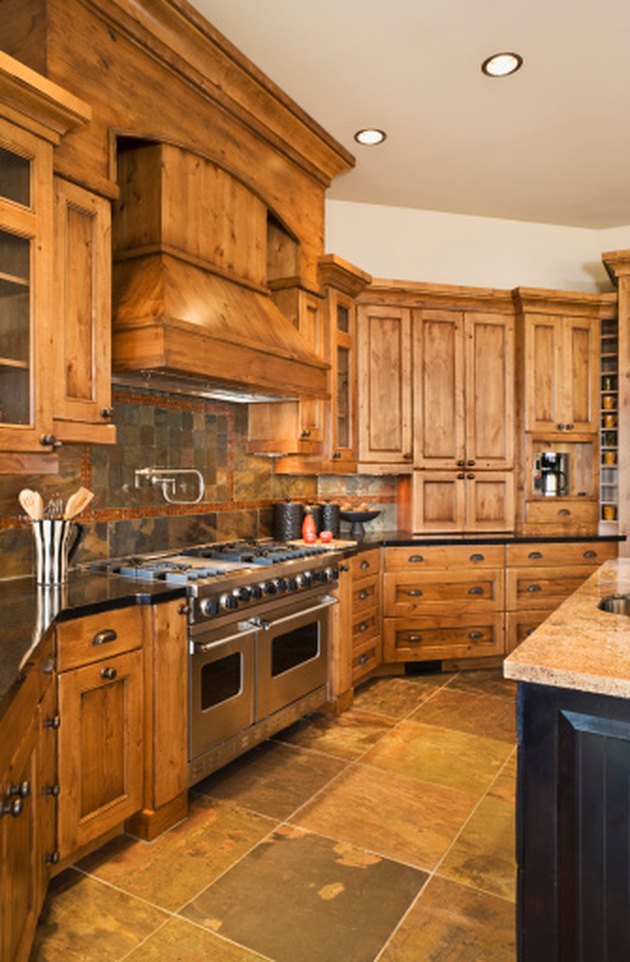 Step 1
Add color to your kitchen with curtains and tablecloths. Choose fabrics that include shades of deep red, blue or green to complement the natural wood in your cabinets. Choose fabrics with small prints instead of large floral prints to add to the country charm.
Step 2
Mix up the different fabrics by choosing a print for the curtains and then a coordinating solid for the tablecloth.
Step 3
Paint any parts of the walls that are not covered by the cabinets. Pick a color out of your print fabric and find a paint that matches it to bring the different colors of your kitchen together.
Step 4
Plant some greenery or some houseplants with flowers that bloom in the same colors as your fabrics. Plant some herbs in small pots on the windowsill.
Step 5
Set up a dish display rack on one wall to use as a functional decoration. Place some of your favorite dishes in the rack that coordinate with the paint and fabric colors or add to the country charm of your natural wood cabinets.
Step 6
Scrounge up items you have or purchase some new decorations for you kitchen. Start a collection of watering cans or teacups and saucers that you can display on a shelf in your kitchen.
Step 7
Save space in your kitchen by using some of your supplies as decorations. Hang pots from a pot rack or display your staples in canning jars.