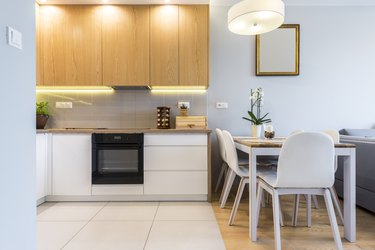 Natural wood kitchen cabinets are a lovely addition and highly desirable for many homeowners and buyers. They make a statement and offer a gorgeous backdrop to the often-favored space in the home — the kitchen. Decorating around natural wood kitchen cabinets requires a delicate hand. To accentuate the natural beauty of the wood without detracting from the swirls, knots and grain, there are a few tried-and-true techniques.
Country Themes for Wood Cabinets
The drawback of a bank of natural wood cabinets is that it can create an intimidating wall of one color. Lessen the monotony by brightening up the space with curtains in contrasting colors. You can also try adding fabrics in rich reds, deep blues or shimmering greens in the form of tablecloths, chair pillows or covers.
Country Living suggests using small prints, tartans and understated florals to add a country charm. Swaths of fabric in creams, grays and charcoal can add to a farmhouse feel. A print for the curtains and a solid color in a coordinating shade can pull a room together and highlight the natural oak kitchen design. Play off the natural design with large florals and green wreaths that will give a garden feel to a wood-heavy kitchen. Live plants tucked in corners or above cabinets offer warmth and depth to a bank of natural wood cabinets.
Modern Wood Kitchen Cabinets
According to House Beautiful, natural cabinets work quite well in a kitchen with a modern design. Modern amenities blend in well with natural wood cabinets for an updated mid-century design. The warmer wood tones brighten a monotone space or soften an industrial style heavy on metal. A farmhouse or country kitchen can be obtained with a set of sleek and streamlined cabinets. Natural kitchen cabinets in oak or pine can shine with state-of-the-art appliances, sleek metal or composite countertops and other modern décor choices.
Painting Around Wood Kitchen Cabinets
Backsplashes are underrated. Use this flat space under cabinets and above counters to show off the rich tones of natural wood cupboards. A bold red or charcoal will offer a dramatic contrast.
If using decorative fabrics in the kitchen, then get your inspiration from the details in the curtains, pillows, chair pads or tablecloth. Pull a color from the print in the fabric to paint on the walls or backsplashes that will bring the kitchen design together.
Chalkboard paint comes in a wide variety of colors and textures. Paint one wall in chalkboard paint and use it as a colorful canvas. A wall swathed in red chalk paint can then have swirls of blue, green or black designs made by family members that can be swiped away for a different look every day.
Enrich a Wood Kitchen Design
There are many ways to decorate with functional as well as attractive displays. Decorative and handy, a rack of pegs can hold colorful glasses that guests and children can easily reach. A metal rack will add to a farmhouse feel while a painted wooden rack can add a pop of color and country charm. Add a shelf and show off assortments of dishes, dolls, vases or any other cherished pieces you collect. This not only adds color and texture but personality to one of the most popular rooms in the home.