Things You'll Need
Protective gloves

Paint thinner

Scouring pad, steel wool or wire brush

Garden hose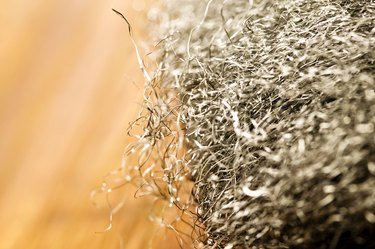 A paver is a block of stone used in sidewalk or driveway paving. It typically comes in the form of a pre-cast concrete brick of a specific shape or color. Pavers are also commonly found on small paths, such as a walkway to a home. Removing overspray paint from these blocks can be done rather quickly using an appropriate chemical solvent. Fortunately, the stone is rather resilient and can withstand even the strongest of paint-thinning solutions.
Step 1
Cover your hands with solvent-resistant gloves and make sure the paver is in an open, well-ventilated area. It should be isolated from any objects that you do not want damaged by a harsh chemical.
Step 2
Apply an even coat of paint thinner to the affected area. Refer to the product label to determine whether you should use a brush, rag or aerosol spray can. Liquid formulas remove up to two layers of paint at a time, while brushable paste formulas can strip several layers in one application.
Step 3
Wait the instructed length of time for the paint overspray to soften. Begin scrubbing the paver with a scouring pad, wire brush or steel wool to loosen the dissolving paint from the stone.
Step 4
Rinse the excess paint and chemical solvent with water from a garden hose or bucket. Reinsert the paver and allow the bare stone to air dry.