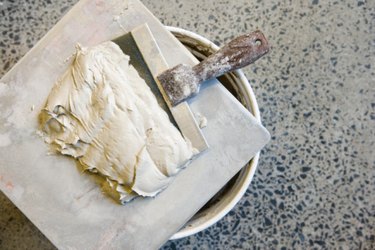 Drywall mud will thicken your paint, allowing you to create texture and hide flaws on your walls. The downside of mixing paint with drywall mud is that it reduces how much area your paint covers and will lighten the color. Keep this in mind when buying the paint you wish to mix with mud for texture. You will likely need two to three times more paint to cover the same area as non-thickened paint. Use the basic all-purpose premixed joint compound for your drywall mud, not any of the specialty varieties, which may not dry correctly when mixed with paint.
Step 1
Dab a small amount of paint onto a scrap of cardboard and add a dab of drywall mud and white glue. Stir them together.
Step 2
Observe the mixture for a few minutes. Some paints react badly with the mud and glue mixture, and will turn rubbery and emit a foul odor. If this happens to your paint, you will need to use a different one. If not, you are ready to mix in your mud.
Step 3
Stir your paint thoroughly before pouring it into a large bucket or tub.
Step 4
Put on long rubber gloves and scoop drywall mud into your paint using a large putty knife or garden trowel. The amount of mud you use will depend on the type of texture you want. Start with about one-quarter the amount of paint you used, then add more as needed. For example, if you used 1 gallon of paint, add 1 qt. of mud to start.
Step 5
Pour a small amount of white glue — about one-sixth the amount of paint you used — into the large bucket as well.
Step 6
Mix the three parts together by hand. This will allow you to feel for lumps as you stir, taking care to distribute the mud evenly throughout the paint. This process may take a long time, but is essential for evenly distributing the mud throughout your paint.
Step 7
Cover your mud and paint mixture tightly if you do not plan to use it immediately, and stir again before applying.