Things You'll Need
Pressure washer

5-gallon bucket

Nap roller cover

Roller frame

3- to 4-inch latex paintbrush

Exterior acrylic latex paint
Tip
Because concrete boards are slick, you should always smooth the wet paint with a paintbrush to encourage a more attractive finish. Do not use a roller alone, or you may end up with disappointing results.
You do not need to prime cement boards unless they are routinely exposed to harsh weather conditions. If you do choose to prime your cement board, use an exterior acrylic latex bonding primer.
Warning
Do not paint a cement board unless you have thoroughly cleaned it first, or you may have problems with adhesion.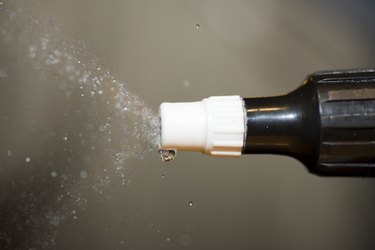 Cement boards, also known as Hardie boards, are a type of fiber cement siding. They are highly durable, resistant to fire, mold, mildew and fungal infections, and they do not rot. Unlike standard cement, which is not an ideal surface for paint adhesion, fibrous cement boards contain pores that soak in the adhesives within the paint, making the finish much more durable. Still, you will need to perform thorough surface preparation to ensure that these pores are open during the application process, or you could still see some chipping and peeling.
Step 1
Clean the cement board using a pressure washer. Ensure that all dirt and dust has been removed before continuing.
Step 2
Allow the surface to dry completely before beginning the application process.
Step 3
Affix a nap roller cover to the roller frame, and fill the 5-gallon bucket to one-third of its capacity with exterior acrylic latex paint.
Step 4
Apply a coat of paint to the cement board using the roller.
Step 5
Smooth the wet paint by lightly brushing it with a 3- to 4-inch latex paintbrush. Work quickly before the paint begins to dry.
Step 6
Allow the paint to dry for three hours, then apply another coat in the same manner.