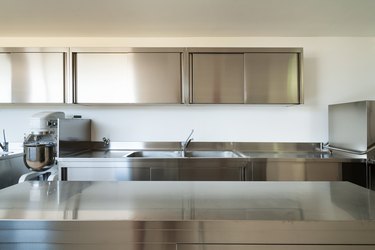 Metal kitchen cabinets, particularly steel cabinets, were very popular post-World War II. The history of it is quite fascinating. Steel production went up during the war to create weapons. When the war ended, new purposes had to be found for the excess steel. Due to its sturdiness, the excess steel was put to use for cars as well as home construction, household appliances and even kitchen cabinets according to Retro Renovation.
If your home has metal kitchen cabinets, you can update them to keep the fun vintage theme but with fresh new colors. Keeping your existing cabinets will also be a huge money saver. Before you begin, many cabinets and homes from 30 years ago or more may contain lead-based paint. Take precautions and wear a mask and gloves when doing this project.
Remove Hardware
Before painting, you want to remove all handles according to RTA Cabinet Store. You can either use the original hardware after you re-paint them or purchase new ones for an updated look. Put them back in once the paint is completely dry.
Some metal cabinets from this era have an interesting quirk where they have pre-molded handles that cannot be removed or unscrewed. If you have pre-molded handles, then the best thing to do is paint over them with the same color as the door for a monochromatic look.
You can remove the doors before painting, but you do not have to. It may be easier for you to leave the doors as they are and just remove the handles, depending on your set up. Wear a painting mask and gloves in case you have lead-painted cabinets to protect from any dust or paint flakes that get stirred up and in the air.
Cleaning Metal Cabinets
Make sure to clean the cabinets thoroughly to remove any grease, stains or dust. ASA Builders Supply recommends cleaning the doors with rubbing alcohol to get rid of any grease or food stains. After that, mix two parts water and one part liquid soap to wash the entire cabinet. Make sure to dry thoroughly to remove all soap and water, since residual water can cause rust. You can even use a hairdryer if needed.
After the cabinets are dry, if any loose paint is present, carefully remove it with a soft brush or cloth according to RTA Cabinet Store. If you're unsure of what type of paint is on your cabinets, it's best to avoid sanding. Doing so could create dangerous lead dust.
Re-Finish Metal Kitchen Cabinets
First apply a metal primer. Spray primers work best for metal cabinets. Primer helps prevent corrosion and rust by sealing out any moisture and will help the paint go on smoothly. Wear a mask and gloves when applying.
Select your desired color. You can keep with the retro theme and do a bright red, a sky blue or make your kitchen more modern with white. Many types of paint will not work well on metal. According to RTA Cabinet Stores, oil-based paint works exceptionally well on metal cabinets because latex paint may not adhere well and could result in chipping and flaking. Two coats should do the trick. Allow each coat to dry fully before applying the new coat.
Metal Cabinet Paint Types
Painting metal cabinets with a roller or brush works best. Be sure to go slow and use careful strokes for the best finish. Painting metal cabinets with Rust-Oleum is also an option. Rust-Oleum makes a Rusty Metal Primer Spray and Metallic Spray Paint.
Re-finish your metal kitchen cabinets with a fresh coat of paint and maybe some new hardware as well. Embrace the retro vibes and have fun with it.