A TV frame is a nice way to integrate a television into the decor of your home. After all, a great slab of black plastic doesn't go with everyone's interior design choices. Frames can even incorporate a two-way mirror so that the television "disappears" when switched off. Alternatively, the screen can hold a still image that fits with the rest of the rest of the room. Either way, you'll want a color of frame that fits with the room and if you can't quite find the right one or are redecorating, then a touch of paint will do the job.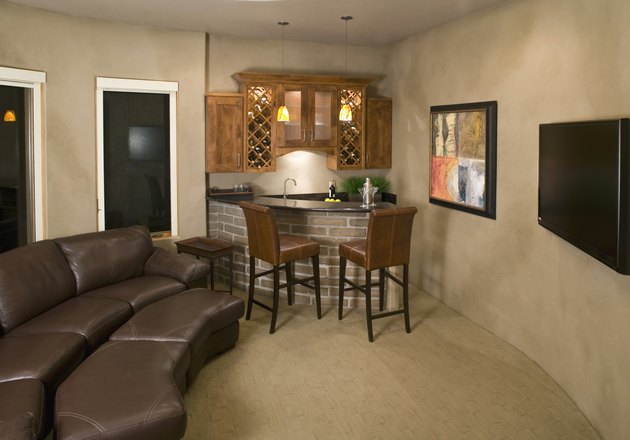 Step 1
Remove the frame from the television if possible and move to a well-ventilated area. If your frame is wood or metal, then gently sand the surface. You do not need to completely remove existing paint layers, only roughen them so the new layer can bind.
Step 2
Brush away any paint dust. Put masking tape around the edges of the mirror or screen if the frame holds one. Choose a paint color and type to match your interior. Gloss paints go well with modern styles that incorporate lots of metal, glass and plastic in the fixtures, while a matte paint is generally better for a more traditional look.
Step 3
Paint in 6-inch sections of frame. Paint across the width of the frame first, making sure you get any groves or cracks. Paint over with an up-and-down stroke to create an even layer. Pick out any hairs that get into the paintwork before the paint dries.
Step 4
Use spray paint on plastic frames. Take the frame outside and layout newspaper. Completely cover the mirror or screen with tape and plastic sheeting. Shake the paint can vigorously and hold the nozzle 10 inches from the frame. Apply steady pressure on the nozzle and move the can slowly across the frame. Allow to dry before removing the sheeting and tape.