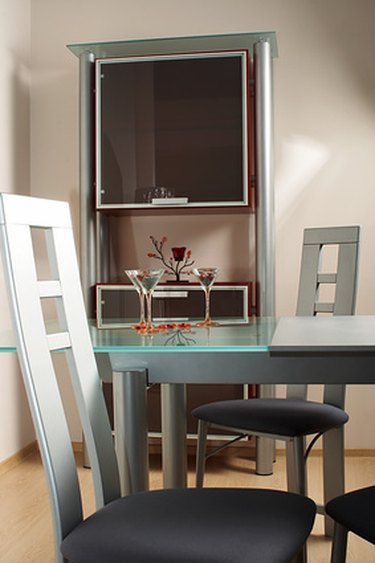 A fresh coat of paint can give almost any wooden piece, such as furniture, cabinets or room trim, a much needed face-lift. Go a step further and apply a clear polyurethane over the painted surface to help protect the paint, as well as the underlying wood. Even though the process of applying a clear topcoat is not difficult, it does require patience and time to properly complete.
Step 1
Place dropcloths on the floor and nearby furniture pieces, countertops and other surfaces surrounding the painted wood pieces you are going to cover with a clear topcoat.
Step 2
Wipe the painted surfaces with a damp rag to remove any dust, dirt or other loose debris. Allow the surfaces to dry thoroughly before applying the polyurethane.
Step 3
Dip the tip of a foam brush into the can of polyurethane. Tap the brush gently against the side of the can to remove any excess liquid. Avoid rubbing the brush over the edge of the can, as the friction can cause air bubbles to form, creating a rough or uneven finish.
Step 4
Apply the polyurethane with even brush strokes. Paint in one direction to cover the surface completely. Work in small areas of 6 to 12 inches, overlapping your brushstrokes to create a smooth appearance.
Step 5
Allow the first coat of polyurethane to dry completely. This often takes several hours or overnight. If you're covering furniture pieces, move them to a warm, dry space, such as a garage or basement, for overnight drying.
Step 6
Sand the polyurethane-clad surfaces lightly with a fine-grit sandpaper -- 280-grit or finer -- to smooth and even out the finish.
Step 7
Wipe down the sanded surfaces with a tack cloth to remove any particles incurred from sanding.
Step 8
Apply a second and third coat of polyurethane in the same manner as you applied the first coat. Allow the polyurethane to dry completely between coats. The final polyurethane topcoat doesn't require sanding.