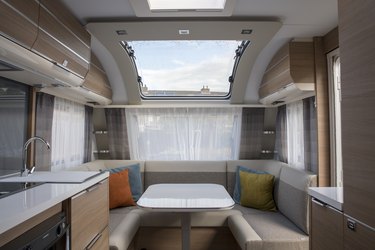 There are a number of upgrades you can make to the kitchen of your new or used mobile home to freshen it up, add a new feel to the space and hide stains and damage. One of the easiest ways to update the kitchen space is to paint the cabinets to give them a new aesthetic.
Mobile Home Cabinet Composition
Most original cabinets in mobile homes are made of a medium-density fiberboard (MDF), which is made by pressing the scrap waste from real wood together with binders, according to Mobile Home Living. MDF is usually then coated with a top layer to improve the wood look and protect it from water, which can cause serious damage to the fiberboard. The coating can be a textured paper, a laminate, a thermofoil made of vinyl or even veneer (a real wood layer). You'll need to determine what kind of cabinets and covering you have as a starting point.
If your mobile home has a few years on it, chances are there's damage to the cabinets as well. You'll want to have a smooth, even surface if you intend on painting particleboard cabinets. Look up methods of do-it-yourself repairs; most of the time some sanding, smoothing and filling can make sure your surfaces are even and ready for paint.
In some cases, the doors may be too damaged to be saved, but hardware stores often sell the most common cabinet door sizes. In addition, online tutorials can direct you on how to make your own cabinet doors, if you're a handy individual with the appropriate tools.
Before Painting Mobile Home Kitchen Cabinets
Before painting, you'll want to clean the cabinets — kitchens especially are great sources of grease, particulates and stains from the day-to-day cooking activities. Look up the best materials to use and make sure all of the cabinet surfaces are as clean as possible to ensure the best bond between the paint and the surface. This can be done in tandem with small repairs, if necessary, to make sure that the final surface is even, clean and ready for the painting process.
Depending on the final type of surface, you may need to sand beforehand. Experts often recommend sanding cabinets to provide a rougher surface with more grip to help the primer really sink down onto the material and bond with it. Painting RV cabinets without sanding or doing the same in a mobile home may yield messy results.
Sanding and Primer Considerations
The complication here is that MDF and some of its coatings can be worn away by aggressive sanding, which creates damage to the material as well as unevenness. If your surface is shiny and smooth, light sanding can help to create a rough grit on the surface that will help the primer and paint stick. Some surfaces won't need additional sanding.
You'll want to start with a primer on your cabinets. Primer creates an intermediate surface that bonds to the cabinet well while leaving a perfect surface for paint to seal onto, helping the paint last. For cabinets with slight unevenness, a self-leveling oil-based primer can help smooth out the last of those inconsistencies. If two layers of primer are needed, you may want to lightly sand in-between layers to help the primer build up the kind of foundation you need.
Painting and Finishing Cabinets
If you're using latex paint over primer, try out color samples beforehand. The primer can change a color, but also, lighting in a mobile home kitchen can be much different than what you might see in a store. After choosing the color, you'll probably want to paint two even coats on the cabinetry. Some people choose to use a sealant after, but that can be a case of personal preference or professional recommendation.