The color of an eggplant is aubergine, which is dark reddish-purple. The rich shade adds notes of opulence and sophistication to decor in a formal dining room, a living room or master bedroom. The hue is not for the timid but it blends surprisingly well with contemporary and traditional decor -- you can treat it as a neutral, a background or an accent color. Eggplant is sometimes used in place of black or brown.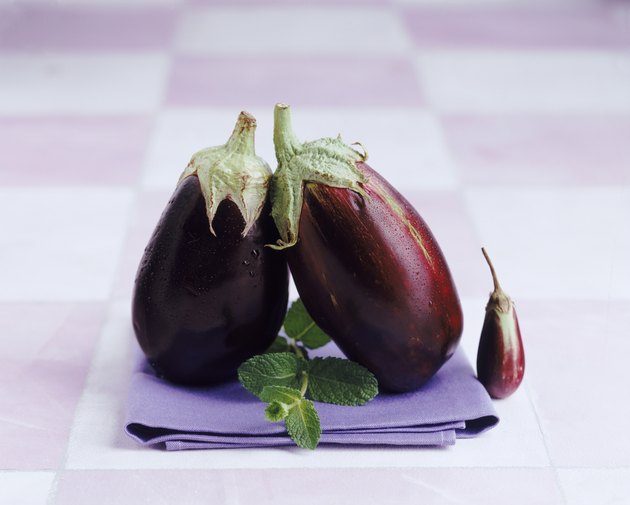 credit:
John Foxx/Stockbyte/Getty Images
To create the color purple, which is a secondary color, you must mix two primary colors, red and blue. Aubergine is slightly redder than true purple, although the color can look bluish-black or have strong hints of red, depending on the red-blue mix. Pick up the predominant tone of an aubergine leather sectional with an oriental carpet in ruby or sapphire, or with throw pillows in navy or scarlet raw silk.
Darker with Hints of Light
Eggplant is darker than standard purple -- it has more black in it, which deepens or shades the color. A high gloss finish reflects light off an enameled eggplant table and chairs or a lacquered eggplant accent wall. The sheen of eggplant silk drapes gleams brightly against patterned acid green and lilac wallpaper.
Contrast eggplant with vivid color to bring out its lavish and luxuriant mystery. An eggplant tile backsplash in a white and brushed stainless kitchen is happily paired with sunflower-yellow or citron appliances. The aubergine velvet wing chair in the parlor is right at home on a cobalt wall-to-wall carpet. Matte eggplant walls in a white-trimmed dining room are an instant gallery for the brilliant Caribbean hues of your Haitian paintings.
Purple is, historically, the color of power and royalty -- Cleopatra demanded purple sails on her barge. It's also traditionally a healing and calming color, used in healing centers and meditation rooms. A library with matte eggplant walls and natural wood trim is restful and elegant. A bedroom with soft gray carpeting and an eggplant bedspread is serene and comforting. Consider glossy eggplant trim in an antique white home office, with an eggplant leather ergonomic desk chair, clear acrylic desk, and task lamp with a citronella shade, for an energetic contemporary, focused work space .