Things You'll Need
Metal scraper

Small wire cutter or sheers

Gloves

Clean window screen

Paint stirrer
Tip
Use a piece of plastic drop cloth under your paint cans before stirring. This will reduce the chances of drips and spills ruining your home or work space.
Warning
Always use paint in a well-ventilated area, use an air filter and try to open windows whenever and wherever you can.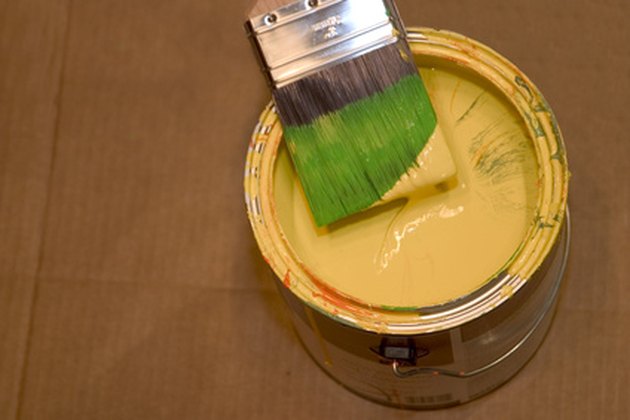 If you are ready to make use of that old can of latex paint you found collecting dust in your garage or basement, then good for you making use of what you already have. When you go to open the can, you will find that there are lumps in it due to the nature of the paint, especially if it hasn't been used in a while. There is a trick you can try to save you the headache of replacing your paint. You will save money and time with some items you may even have on hand.
Step 1
Open your paint can. Use a metal scraper to pry the lid off. If you have used the paint before, it may take a little work due to the fact that the dry paint will cause the lid to stick to the rim of the can. Inset the scraper in a few different places to make opening the lid a bit easier. Work your way around the can until the lid is loosened.
Step 2
Put the lid in a place where it will be out of the way. Put on your gloves and grab your sheers or wire cutters and a piece of screen big enough to cover the open mouth of your paint can.
Step 3
Place the screen piece on top of the can mouth. Trim around it until it is slightly larger than the can mouth.
Step 4
Trim the outer edges of the screen piece you just cut. Trim it about 1/2 inch so that it will actually fit inside of the can.
Step 5
Place the screen flat inside of the can directly on top of the paint. Take a paint stick and use it to slowly push the screen down to the bottom of the can. The lumps will get pushed to the bottom as the smooth clean paint rises through the small holes of the screen. Leave the screen in the can and you are ready to use your paint.
---
Eve Frost is a Virginia-based writer with a passion for writing creative Web content for various websites. Frost studied art and literature at Old Dominion University in Norfolk, Virginia.