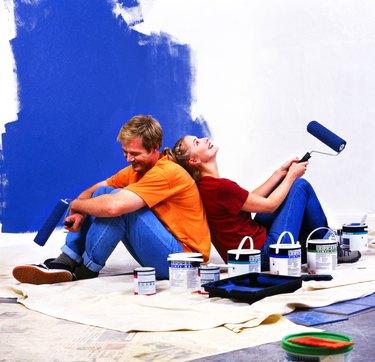 Like interior paint, exterior paints are available in an enormous array of colors. While either paint can be applied indoors, each has been formulated to perform best in its environment. Applying an exterior paint inside is no different than smearing on some sunscreen and donning your winter coat indoors -- you can certainly do so, but there are better options.
Exterior Paint Formulations
Exterior paints are formulated to hold up to the great outdoors. A premium latex exterior paint relies upon flexible acrylic resins that expand and contract with a home's siding during extreme weather fluctuations from hot to icy cold. These paints are highly water resistant, and contain ultraviolet-blocking additives that prevent premature breakdown from the daily punishment of direct sunlight. Other additives protect against mildew spores and tannin stains from wet falling leaves or bleed-through from sappy wood knots.
Interior Paint Chemistry
Unlike exterior coatings, interior paints are designed to hold up to heavy indoor traffic that often results in frequent bumps and scrapes against walls and woodwork. Indoor painted walls are seen much more closely than exterior siding, so interior paints are formulated with resins and additives that produce a smooth finish that holds up to regular dusting or scrubbing. Interior wall paints also include additives that minimize spatter during application with a brush or roller.
Indoor Air Quality
Because of health and environmental concerns, modern indoor paints produce minimal odor and little or no toxic emissions. By contrast, exterior paints usually out-gas into the great outdoors where chemical emissions are less apparent. When exterior paints are used within enclosed indoor spaces, the chemical fumes -- including volatile organic compounds, strong mildewcides and other potential health hazards -- can linger in the air indefinitely. These airborne chemicals can irritate the eyes and throat, and they have proven harmful to individuals with respiratory disorders.
Comparing the Advantages
Although you can use exterior paints indoors, they are only the second-best choice. At first glance, exterior paints may seem better indoors and out because they're tough enough to hold up under challenging outdoor conditions. But indoor environments pose their own set of challenges that interior paints are better designed and equipped to deal with. Interior paints also offer some practical advantages to home decorators. For instance, most exterior paints are available in three finishes -- flat, semigloss and gloss-enamel -- but interior paints may also be supplied in as many as six finishes, which include satin, eggshell and matte.