Custom-mixed paints from home improvement stores can look different when you bring them home. Printed color swatches look different under store lights, and paint mixer technicians can make mistakes in paint formulas. If you cannot take the paint back for a return, you can change the color tone to suit your design with a few tricks from the artist's palette.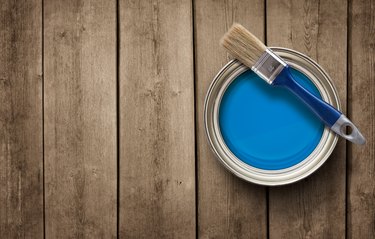 Find the Base Color
What is wrong about the color? Is it too light? Too red? Determine what is wrong about the color to guide your correction process. It could be the base color is essentially right but just needs to be shaded a step or two. For example, the red in the couch may be a wine red, while the paint in the can is a hot cherry red. Shading the cherry paint with black can darken it to wine. Or the base color of the paint may not be in same color family. For example, the color in your draperies may be a green turquoise, while your paint is a blue turquoise. You can alter this color by adding yellow to the blue paint. If you need to shade the paint, acquire a pint or quart of black latex paint. If your wall paint has a semi-gloss finish, attempt to match the black paint to this finish.
Test It Out
Play around with the colors to get the right combination. Mix 1 tsp. of the wall paint with 1/4 tsp. of black paint. Brush this test color on a primed wall surface and let dry. If the paint has become dull and gray, you may need to take the paint back to the store and ask the technician to shade the color for you using a professional black base color that is more pure. Mix and match the original paint and the black paint until the color matches your preference.
Mix It Up
Found your perfect mix? If your test patch indicates you can mix black with your wall paint with acceptable results, prepare to shade all of your wall paint at once. Dump all the paint in the 1-gallon cans into a single 5-gallon paint bucket. Do not attempt to mix a new color into each separate paint can: any mistake in formula will result in one or more slightly different shades of paint.
Stir the paint thoroughly in the big bucket. Add a very small amount of the black to this mixing bucket, perhaps as little as ¼ cup at a time. You can always add more black but you will never be able to take it back out, so add black very gradually. Stir the batch for a few minutes and then test the color on the wall and let it dry. Continue adding small amounts of black to the big paint bucket until you derive the color shade desired.