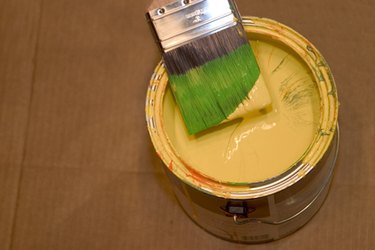 Coupling the natural beauty of wood with a hue of pigmented stain adds character and personality to any piece. A wide selection of pigmented stains is available at most home improvement and paint stores, but you can also create your own exclusive color.
The Facts
Stain and paint can be mixed safely to achieve your desired color. For successful results, mix oil-based stain only with oil-based paint and water-based stain only with water-based paint. You can also mix two colors of stain together to achieve the tint that you wish.
Considerations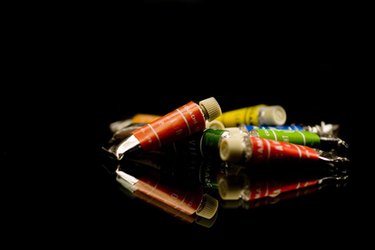 Pigmented stain is virtually thinned paint. If you have a paint color you love but want the coverage of a semi-transparent stain, dilute it with an equal portion of water. Paint it on with a brush or foam brush, wiping it off with a rag before it begins to dry. Michael Dresdner, a nationally known wood-finishing and woodworking expert, recommends mixing artist's oil or acrylic paints with stain to achieve just the right intensity of color.
Tips
Do not mix oil-based paint with water-based stain and vice versa. Mix the paint and stain thoroughly to achieve even color. Practice your color combinations on scrap wood until you find just the right blend.
---
Based out of Texas, Lea-Ann Virnig began her professional writing career in 2010 after several years of teaching writing to elementary and middle school students. She has also written presentations and retreats for area churches and organizations since 1997. She studied communications at the University of Wisconsin, La Crosse.