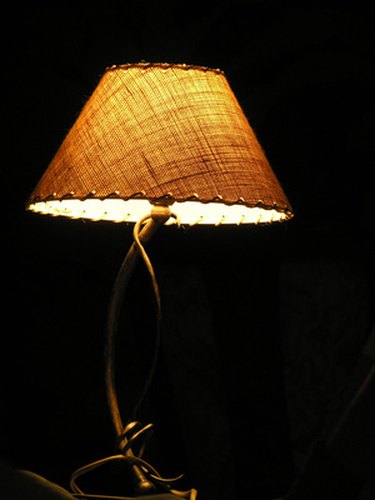 Refreshing your old lamp with a new shade sometimes requires changing the harp that holds the shade. Raising or lowering the lampshade a few inches can make a big difference in appearance. Luckily changing the harp base gives you instant options for different heights and types of shades. With a few tools and a few minutes you can change the profile of your lamp.
Changing Lamp Harps
Step 1
Work on a comfortable table or counter top. Unplug the lamp and remove the finial, shade and bulb. Harps are made in one or two pieces. If yours is a two-piece remove the harp top by sliding up the fasteners and pinching the legs together to remove it from the base slots, otherwise proceed to the next step.
Step 2
Remove the socket cover by locating and pushing in on the spot marked "press" to loosen the socket. On really tight ones, you may have to resort to a gentle pinch with the pliers.
Step 3
Loosen the screws and remove the wires on the sides of the socket, but leave the screws attached. Loosen the screw holding the socket base to the threaded pipe and remove the entire socket. Take off spacers or decorative components and make note of the order in which you remove them. When you reach the harp base, remove it and thread on the new one.
Step 4
Replace parts in reverse of the order in which they were removed. Reattach the socket base to the threaded pipe and tighten the side screw. Connect one wire to each of the side screws on the socket. Thread the bare end of the wire over the screw from left to right so the wire is pulled into the screw as you tighten it.
Step 5
Slip on the socket cover taking care that the crimped edge is fitted snugly into the socket base. Attach the harp top if it is a two-piece assembly. Insert and tighten the bulb. Attach your new lampshade and secure it with the finial. Plug in the lamp and turn it on.