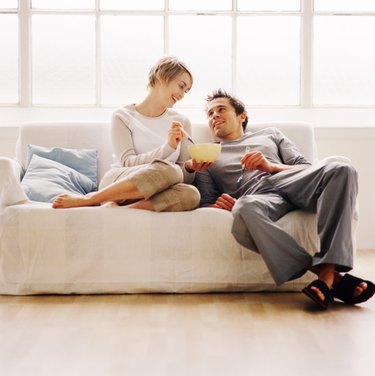 The choice of what fabric really is best for your home depends on several factors. Some things to consider are the amount of usage and whether or not you have pets and small children. Certain fabrics such as leather and microfiber can clean up easily while textured cotton looks the prettiest. Knowing the facts before you go shopping for your next sofa can help prepare you for what to expect.
Leather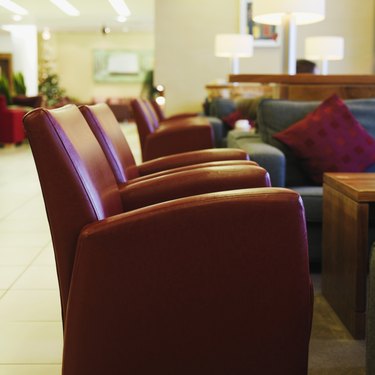 Leather, in most cases, is the most expensive type of fabric for a sofa. The reason being is the leather has a certain durability, feel and level of quality. Leather can be wiped down and cleaned with ease and rarely smells foul. Throughout time, the leather becomes softer and even more comfortable. Leather is recommended for homes with small children and pets that shed a lot. The only drawback to leather is that it can feel sticky in hot weather and become cut by sharp objects such as razors, keys or pocket knives.
Textured Cotton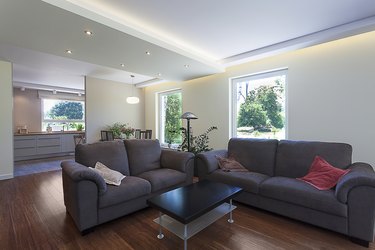 Textured cotton fabric sofas are ideal for a den or small room that does not get a lot of traffic. The sofa will appear to look worn more quickly with textured cottons as the surface quickly begins to wear away. The other drawback to textured cotton is the ability for it to trap dirt within its grooves, which can lead to staining and odors. It may appear nice at first but it's not suggested for heavy use. Purely cotton sofas have a tendency to wrinkle as well.
Cotton and Polyester Blend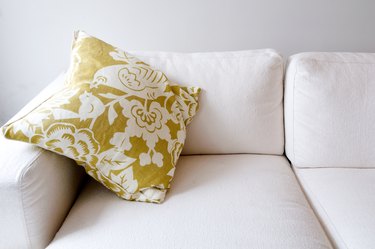 Cotton and polyester blend sofas are usually economical choices. The polyester element within the blend adds more durability to the sofa and decreases the chance that it will get wrinkled. This adds to the overall quality and look of the sofa. These sofas can hold up to daily use.
Microfiber
Microfiber is a type of fabric with growing appeal among home decorators. This fabric has a soft and velvety feel, similar to suede. It is composed of an ultra fine polyester fiber that gives it this feel. Since it is polyester, the fabric tends to be durable yet soft, economically priced and easy to clean. The only popular fabric choice for a sofa that is easier to clean is leather.