Corners can use it, homes can use it and even wheels and wagons can benefit. If you do it, you will fall for its useful properties too. Reflective paint has a host of uses in and around the home on sports equipment, off-road vehicles and more. Making your own reflective paint is not a difficult endeavor for the typical DIYer.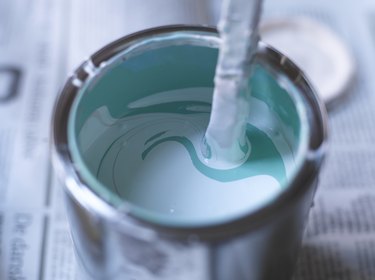 Uses for Reflective Paint
There are many ways to use reflective paint in everyday life.
Toy planes, trains and automobiles can benefit from a swipe of reflective paint.


A slick of paint on the back of ATVs, motocross bikes and other off-road vehicles can help them to be seen in the dark by other riders and be easier to locate if they are left behind in remote areas.


Boaters can use reflective paint on lines that tend to droop, buoys that may get loose and float away during the night and for ladders and equipment that are used to adjust sails and sheets in less than ideal dark conditions.


Street vehicles such as motorcycles, scooters and cars can use reflective paint on bumpers and hubcaps so fellow drivers can see them more clearly on the road.
What Is Reflective Paint?
Reflective paint is regular paint with a tiny additive that makes all the luminous difference. Small reflective crystals are added to a gallon of flat, satin or eggshell paint either at the factory or at home. The tiny crystals catch and reflect light. The large amount of crystals per square inch of paint are what give it the high luminosity.
Best Base Paint
The most popular base paint color is light, such as white, or metallic, such as silver. These base shades are naturally more visible in low-light conditions. Depending on how you plan to apply the DIY reflective paint, you can use either interior or exterior paint as a base.
For outdoor use, a heavy-duty exterior latex is ideal. If you plan to use reflective paint for steps, guardrails, corners or other safety measures indoors, an interior paint in any sheen should suffice.
Reflective paint that can be easily applied and that can alert people to danger or be a beacon for lost items in the dark can be made at home a few ways.
Crushed Glass Paint Additive
Clear crushed glass can give a decorative finish to reflective paint. It is added to the base paint and mixed in a machine or by hand before being applied.
You can add colored crushed glass as a paint additive as well. The main point of a crushed glass paint additive is to give the liquid a reflective quality.
Reflective Paint Additives
To turn a plain can of paint into a gallon of reflective paint, you can add a bevy of shiny items to the paint as long as they are small and don't interrupt the viscous quality of the paint.
Crystals – Crushed crystals from leftover quartz tile or rock can be ground up and used in small quantities in a gallon of regular paint to make it reflective.



Glitter – Simple craft glitter can be added to craft glue to make small batches of reflective paint for toys, side gates, lamp posts and other outdoor items where you don't want a large area of reflective paint. A few inches of reflective paint can go a long way in guiding someone down a dark garden path or finding lost toys in shaded gardens.



Airport-quality reflective glass beads –

Bags of reflective glass beads are made to be mixed into paint by hand or by machine. The beads will settle because they are heavier than the paint. When mixing by hand, turn the can upside down with the lid on before giving it plenty of quick stirs.