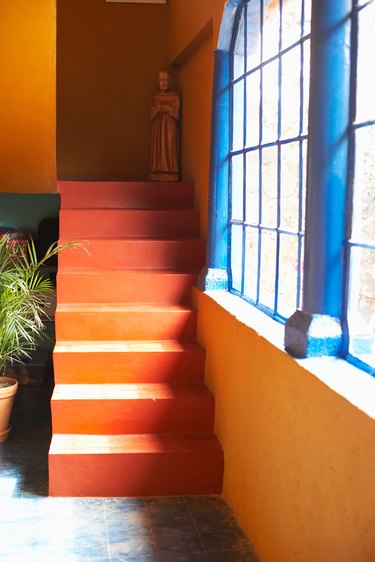 From old country haciendas and colonial homes to rustic adobe ranches and tiny casitas, traditional Mexican homes are typically painted in a palette of vibrant colors. Adapted to the tropical climate, larger properties often feature high wood beamed ceilings, tiled interiors and cobbled courtyards, that allowed air to flow freely and keep floors and other surfaces cooler. Mexican architecture developed in the richest region in Spain's colonial empire, was heavily influenced by Mediterranean and Moorish styles.
Spanish Colonial Style
Spanish colonial style architecture adapts European influence to New World realities. Walls are stucco-plastered terra cotta, whitewashed or colored in vivid, lime-based paints, which helps to prevent excessive fading in the intense sunlight. The legacy of using sun-drenched colors and paint washes of blues and green dates back to pre-Hispanic civilizations' use of bold paint for murals and pottery. Interior walls may be covered in layers of vibrant hues; intricate stencil patterns and color contrasts are used to highlight architectural features. Windows are protected by elaborate iron exterior grates and the street facade may be closed -- the houses turn inwards around a sala abierta, an open-air courtyard or al fresco living room. Rustic touches, such as hand-hewn wood beams and waxed terra cotta tiled floors or stone pavers, provide a traditional backdrop for the hand-carved wood furniture and bright tapestries that enliven the interior decor.
Haciendas -- Mexican Ranch Style
Mexico is home to many hacienda-style enormous estates. Elaborate dwellings for the landed rich and powerful, they included a main house, guest quarters, stables, and servants' rooms. Large stone-walled buildings, with high ceilings, haciendas often contain many concealed cool interior patios, colonnades, secluded spaces and Moorish touches such as towers, arches and mosaic tile. To provide shade and keep interiors cool, windows are large and deep set and ceilings high, inviting cool breezes to flow through homes. Walls are thick and heavy to keep out the heat. Glazed and hand-painted tiles and stone are cool surfaces in the living areas. Wood shutters over windows keep the heat out, and second-floor rooms have French doors that open onto small, decorative wrought iron balconies. As symbols of a family's wealth and culture, haciendas were -- and still are -- decorated with ornate architectural features and artwork.
Adobe Homes
Historically, lower income families and the peasants who worked the haciendas lived in adobe houses. These traditional Mexican homes were made from a combination of clay-based soil, straw and water, supported by a wood frame. The clay dried into thick walls which insulated the home from extremities of heat and cold. Windows and doors exposed wood beam frames and, if windows were not glazed, they could be closed with wood shutters. Houses often had red terra cotta tile roofs -- barrel-shaped tiles help to sluice off water in the rainy season. These plainer, smaller homes, crafted from natural materials, originated from the techniques used by Mexican Native American cultures. Today, an adobe home might be whitewashed but still feature exposed wood beams, overhanging tile roofs and small, timbered front porches or covered entryways.
---
Currently living in London, Clara Dodman's varied writing career since 2004 has taken her around the globe. She's written copy for "Dive" magazine, "Geographical" magazine and "GoActive" magazine. More recently, she worked as a copywriter for a web company in South America, specializing in health. Dodman holds a Bachelor of Arts in English literature from the University of Cardiff.