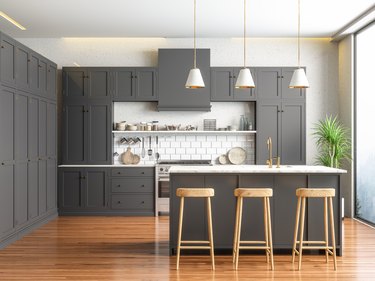 It is one of the most common materials used for kitchen cabinetry. It is also one of the most common flooring choices. But creating a gorgeous space using wood floors with wood cabinets can be daunting. After all, there are many grain choices, shades and materials to choose from!
A bank of wood cabinets creates a warm and inviting space. Mixing the right rich or light wood tones with laminate, vinyl or wood flooring planks can further highlight the natural beauty of the wood cabinets.
Tip
Coordinating kitchen cabinets and flooring takes a little research and thought to do it right.
Main Hardwood Floor Types
There are two main types of hardwood flooring: solid and engineered. Types of solid wood include oak, cherry, walnut, pine and maple – just to to name just a few of the more popular options. Engineered wood, on the other hand, is made of different durable materials, including five to seven layers of crisscrossed plywood, beneath a slab of natural wood.
Coordinating kitchen cabinets and flooring requires working with the hue and tones of each hardwood, according to Hardwood Bargains. When searching out the right wood stain for the cabinets or shade of the tree species you want to use for the flooring, you should take a sample of the wood, which are often available at the store. If you don't have a sample, remove the kitchen cabinet door or lift a small area of the floor slab and take that with you.
Photos may work as long as the lighting is professional and offers a true color match. Allow natural light to flood the flooring and cabinets before taking a shot.
Painting to Match Wood
If you are completely renovating a space, coordinating kitchen cabinets and flooring is much easier to accomplish. A few coats of paint can perk up tired, dated and dingy kitchen cabinets.
Painting or staining cabinets requires a steady hand and straight brush marks for a pristine finish that isn't distracting with errant strokes. First, remove all of the cabinet doors, noting, as you go along, which door belongs to which cabinet in order to return them later to their proper place. Paint the doorless bank of cabinets first, then allow them to dry while you paint the doors. But paint the doors outside so you can cut down on paint fumes in the home.
Explore the color wheel to find a paint hue that will make the space inviting and make an impact on guests. Choose a bright white to contrast a dark wood floor, such as walnut, or a slate blue stain to compliment a weathered gray expanse of planks.
Kitchen Floors with Oak Cabinets
Oak cabinet and hardwood floor combinations can be tricky. Take time to consider the wood flooring that will highlight or blend well with the oak cabinets
Oak cabinets are a common cabinet choice. Laying down a light color wood floor adds warm natural tones and will reflect light, which is ideal for small spaces, according to Home Stratosphere. Dark wood kitchen floors with oak cabinets can draw the eye down.
If the oak cabinets don't work as well with the wood flooring you've chosen, a stain can fix the issue. Stains can be applied to cabinets that have been cleaned and lightly sanded to better highlight the hue and tone of the hardwood flooring.
---
Kimberley McGee is an award-winning journalist with 20+ years of experience writing for a variety of clients, including The New York Times, Las Vegas Review-Journal Home section and other national publications. As a professional writer she has researched, interviewed sources and written about home improvement, interior design and related business trends. She earned a B.A. in Journalism from the University of Nevada, Las Vegas. Her full bio and clips can be viewed at www.vegaswriter.com.