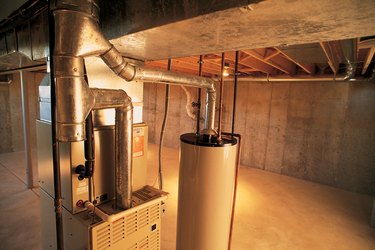 If you need to add more living space to your home, then consider finishing your basement. You can decide to do a major renovation project that can cost thousands of dollars, or you can use inexpensive ways to finish your basement walls and ceilings. Even a quick and inexpensive finishing job can make your basement more appealing and open it up for family activity.
Drop Ceiling
If your basement is deep enough, you can put in an inexpensive drop ceiling to give a finished look. A drop ceiling is an excellent solution because it is easy to install and you can choose from many different inexpensive colors and designs. The drop ceiling is also convenient because it offers easy access to wires and pipes that may be running along your basement ceiling.
Paneling
Paneling can be used as an inexpensive way to finish you basement walls or ceiling. Use a strong adhesive to put strips of wood on your concrete basement walls, and then use wood screws that match your paneling to attach the paneling to the wood strips. Using wood strips with wood screws makes it easy to remove paneling pieces to get at pipes and wires. You can use wood screws to secure paneling pieces to the basement ceiling as well.
Paint
A clean basement ceiling can be spray painted with a bright color to give a finished look. The spray paint will not hinder access to pipes and wires, and it is easy to apply. Concrete paint can be used to finish the walls using a variety of looks. You can use a solid color on your basement walls, or you can mix colors for a marbled effect. Painting the concrete walls is not only an inexpensive way to finish them, but it also helps to waterproof your basement.
Area Rugs
Attaching area rugs to your walls, or hanging them over your ceiling is less expensive than drywall and can give you a wide variety of looks. Try to find patterns or designs that will create a unique decor in your basement. Remember to keep rugs away from areas where moisture collects to prevent the growth of mold and mildew.