Things You'll Need
Screwdriver

Wrench

Wood blinds

Vertical blinds
Tip
Contact your blinds manufacturer if problems persist or you have specific questions related to your blinds.
Warning
Keep children away from blinds. Cords hanging down can be dangerous to small children when they get caught in the cords.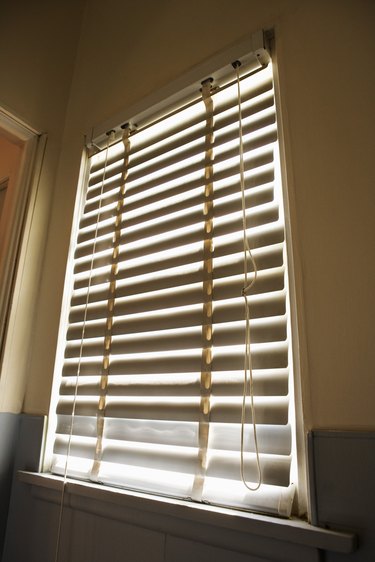 Sometimes it seems that even though your horizontal or vertical blinds are closed, there are still gaps in between the slats where light comes in or you're afraid people can see inside. Remedy this situation, or know what you are looking for when you are ready to purchase new blinds to avoid this issue in the future.
Step 1
Flip horizontal blinds upwards. Instead of closing blinds the traditional way, which would be pulling the front cord to make the blinds slant downward, turn the blinds up with the ridges facing the ceiling by pulling on the back cord. This will provide a tighter fit for the blinds and let in less light.
Step 2
Check your hardware to ensure nothing has come loose. Sometimes if the blinds aren't installed correctly or some of the hardware has come undone, the actual blinds will be looser and won't close as tightly. Tighten loose screws with a screwdriver, and maintain bolts with a wrench. Check the chains and pulls to see if they are tight, and make sure cords haven't broken, become twisted or worn down, in which case they may need to be replaced. Make sure vertical blinds aren't twisted, and remove them from their clips and turn them around if they are. Replace any broken blinds with new ones for best results.
Step 3
Try wood blinds. Wood blinds are known to have the tightest closures and keep out the most light. These are also good if you want to save energy and keep glare away from electronics such as a computer screen in an office.
Step 4
Install vertical blinds instead of horizontal ones. Horizontal blinds simply don't close as tightly as vertical blinds. While horizontal blinds may work well for smaller windows, if you have a large window or glass door, vertical blinds will offer more privacy and rarely leave any gaps when closed. The blinds gently overlap each other, preventing gapes and holes.
---
Christi Aldridge has been writing professionally since 2009. She graduated from Texas Christian University, where she was a featured contributor for several campus publications and won an award for best columnist.