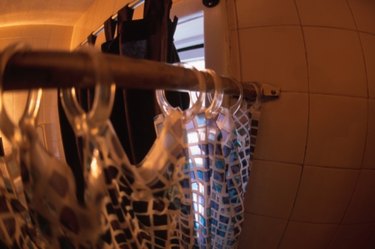 Gluing plastic to tile can be necessary to attach small appliances or organizers to a tiled wall or floor. You may also glue artwork, hooks or hardware to the tile. Using a silicone-based adhesive will permanently adhere the plastic to the tile. If the plastic has a smooth surface, sand the plastic to help with adhesion.
Step 1
Wash the area with soap and water where you will be adhering the plastic. Dry the area with a rag.
Step 2
Measure and mark the location where you want the plastic to be placed. Use a level to make sure the mark is straight.
Step 3
Sand the back of the plastic with 220-grit sandpaper. Wipe away any dust with a rag.
Step 4
Apply the silicone-based adhesive to the back of the plastic. Spread the adhesive with a craft stick to cover the entire back area of the plastic.
Step 5
Use firm pressure to affix the plastic to the tile. Line the edges of the plastic up with the mark you made on the wall. Hold the plastic in place according to the manufacturer's directions.